Obituary
Reuel Moegagogo Tamasese (1967-2013)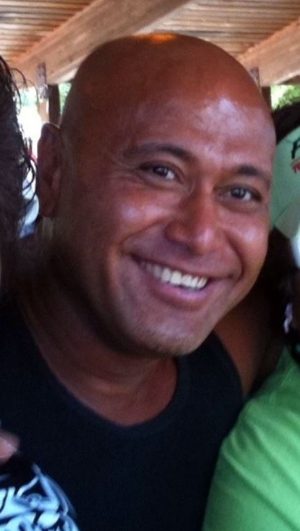 Reuel Moegagogo Tamasese (1967-2013)
Reuel Moegagogo Tamasese, 46, of Fillmore, Ca. went to his heavenly home on April 29, 2013.
He was born on April 12, 1967 in Utulei, American Samoa, to the late Diana Ramsey-Kuaea and Nofoaseafa Tamasese.
Moe graduated from Banning High school in Wilmington, CA, in 1985.
He worked at Saticoy Lemon Asscociation in Santa Paula, Ca. and was recently employed at CD Lyon Construction in Ventura, Ca. He was known for working hard and always making people laugh.
Moe was also preceded in death by his step father Morrow Kuaea better known to him as "Pops".
Moe is survived by his only son Philip Tamasese of Fillmore, CA, that he loved with all his heart, his brother Philip and wife Marty Tamasese of Broken Arrow , OK; his sisters Diana Tamasese and husband Keni Rimoni of Berrien Springs, MI; and Jennifer Rose Tusalava Kuaea of Del Rio, TX.
Moe had four nephews: Morrow Alexander Tamasese; Kenric and Kristian Rimoni; and
Kai Smith. He also had two nieces: Anacristina Tamasese and Keiana Smith.
Moe was blessed to have many friends that he loved dearly and he considered them family. They knew him as having a generous heart and would always greet you with "Hey, man!" or "Hi, Sis!" and a contagious smile. He would always remind his son Philip every night before Philip went to bed that "Jesus loves you son."
Moe's celebration of life services were held at Skillin-Carroll Mortuary at 600 Central Ave on May 4, 2013 at 8:30 am. Services were officiated by his uncles: Rev. Andy Leavasa of Lakewood, CA, and Rev. Moegagogo Tamasese of San Francisco, CA. Words of comfort were given by Julian Chaveste of Santa Paula,CA.
Moe was laid to rest at Bardsdale Cemetary in Fillmore, CA.