Obituary
Ralph Villalobos (1963-2019)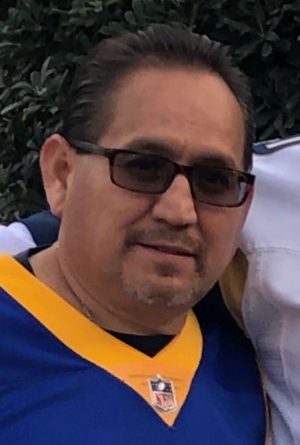 Ralph Villalobos (1963-2019)
Ralph Villalobos age 55 passed away peacefully with family by his side on Wednesday, July 17th at a hospital in Tucson, Arizona. Ralph was a devoted father, grandfather, uncle and companion. His presence will be sorely missed in all of our lives.
Ralph was born on June 22nd, 1963 to Julia Hernandez and Raul Villalobos. He was a 1983 graduate of Fillmore High School where he was a valuable member of both the Track and Cross-Country teams. During Ralph's tenure, he set and held the boys Frosh-Sophomore mile record for over 30 years.
Ralph was a free and loving spirit. After his graduation, he enjoyed a lengthy career as a long-distance truck driver, allowing him to travel the United States while also providing for his family.
His grandkids, nieces, and nephews adored his vibrant personality, enjoying his funny voices and unique characters. He was a jokester at heart and made everyone smile.
Ralph was the life of the party as he was always the first to arrive and the last to leave. He treasured the time he spent with his family and friends. He loved to cook Italian food, and often you would find him preparing lasagna from scratch for those he loved. Ralph was a die-hard LA Dodgers, LA Rams, and LA Lakers fan and was always ready to enjoy a game at the stadium or at home while barbecuing.
Ralph is survived by his sons Joseph Villalobos, Mathew Villalobos, Justin Villalobos, and his daughter Kelly Villalobos as well as his grandchildren Jarell and Dontae. Ralph is also survived by his brothers and sisters, Linda Escoto, Ray Tafoya, Julie Arroyo, Pauline Villasenor, Sandra Careno, Debbie Davalos, Suzette Carrillo, Lori Luna, Chris Clark, and Shannon Campos.
He is preceded in death by his Mom, Julia Ramirez, and dad, Raul Villalobos, and brother, Tony Tafoya. He was blessed with a large family and leaves behind numerous nieces and nephews, cousins and aunts and uncles.
Those whose life Ralph touched are invited to the share in the celebration of his life on Saturday, August 10th at the Fillmore Senior Center located on 533 Santa Clara St. Fillmore, CA 93015 from 12:00 pm to 4:00 pm.