Obituary
R. Conway Spitler (1921-2013)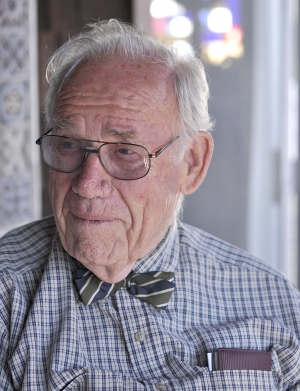 R. Conway Spitler (1921-2013)
The family of R. Conway Spitler is sad to announce his passing on July 7, 2013.
Conway, as he is best known, was born March 3, 1921 in Santa Paula, California. He lived his early life in Fillmore, California graduating from Fillmore High School in 1938. He continued his education at Antelope Valley Junior College and received his Bachelor of Arts from San Jose State College in 1942. After graduation he enlisted in the US Army where he serviced with the Seventh Corp and landed at Omaha Beach on Day D +1. After the war he returned to Stanford University where he received his Master of Arts.
For many years he taught business education at Salinas High School in Salinas, California and eventually became assistant principal at that same school. He left teaching for several years but returned to southern California and became a business education teacher at William S. Hart Union High School.
He retired from teaching and enjoyed working in his garden, hooked rugs, working with the computer and growing his orchid plants. He was well known for his participation in the Fillmore Flower Show and for walking around Fillmore giving flowers to his many friends and acquaintances.
He was then drawn back to becoming involved in the development of the Fillmore High School Alumni Association where he became its executive director. He spend many hours encouraging his fellow alumni to get involved and contribute back to the organization so scholarship could be provided to graduates of Fillmore High School who wish to continue their education.
He was preceded in death by his wife Ottilie Spitler. He is survived by his two sons Thomas Spitler and Russell Spitler, two grandchildren Joshua and Megan and a new great granddaughter Clara.
If you would like to make a donation in Conway's memory please consider a donation to the Fillmore High Alumni Association.