Gov. Schwarzenegger Highlights Importance of Life-Saving Organ and Tissue Donation in California
By Gazette Staff Writer — Wednesday, April 30th, 2008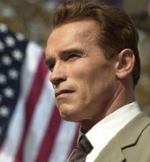 Arnold Schwarzenegger
California State Governor
Governor Arnold Schwarzenegger today praised the 3 million Californians who have pledged to save and improve lives by signing up for the state-authorized Donate Life California Organ and Tissue Donor Registry. The Governor, joined by families, legislators, Department of Motor Vehicles (DMV) representatives and allied health professionals, also signed a proclamation declaring April 2008, "DMV/Donate Life Month."
"The benefits of organ and tissue donation are simply staggering," said Governor Schwarzenegger. "I am proud of the 3 million Californians who have signed up to be organ and tissue donors. Each person who becomes a donor can save the lives of eight people and dramatically improve the lives of 50 people. It truly is the gift of life."
The number of individuals who wait for a life-saving transplant continues to increase every day. California has the highest proportion of people on the national organ transplant waiting list, with about 20 percent of the nearly 100,000 candidates awaiting a life-saving transplant in the state.
Registered organ and tissue donors saved or healed more than 3,000 people in 2007. Anyone can sign up on the Donate Life California Registry and, unlike blood donation, there are few automatic rule-outs.
Assemblymember Sharon Runner (R-Lancaster) authored Assembly Concurrent Resolution 125, a resolution recognizing April as DMV/Donate Life Month to encourage Californians to sign up with the Donate Life California Registry.
"Californians have an extraordinary opportunity to help save lives and ensure their decision to do so is honored," Assemblymember Runner said.
"We are pleased that in the last year, the Donate Life California Registry has shown its value as a tool to save and heal lives," said Bryan Stewart, president of Donate Life California. "With one million designated donors signing up every eight months, the life-saving impact of the registry is on an upward trajectory."
The success of the Donate Life California Registry owes much to its partnership with the DMV. The vast majority of the registry's 3 million designated donors have signed up since the DMV began enrolling designated donors in July 2006. Due to the five-year license renewal cycle, two-thirds of California drivers have not yet had the opportunity to check 'yes' when they renew their license, and the Governor and state lawmakers urge individuals to do so.
"Those 'pink dots' are more than mere symbols; they have taken on the power of advanced directives for organ and tissue donation for any California motorist who proudly chooses to display them," DMV Director George Valverde said.
In all cases in which an eligible donor has not registered with Donate Life California, the donation decision falls on families, who consent to donation in about 60 percent of cases. When families are unsure of what their loved one wanted, they may decline to donate. Thus, the decision to be a donor can be a gift both to one's family and to potential recipients.
Donate Life California is a nonprofit, state-authorized organ and tissue donor registry, administered by California's four nonprofit, federally-designated organ procurement organizations, each responsible for facilitating the donation process in the state: California Transplant Donor Network, Golden State Donor Services, Lifesharing and OneLegacy.
For more information, please visit http://www.dmv.ca.gov/about/donateLife/donateLife.htm, www.donateLIFEcalifornia.org, or in Spanish at www.doneVIDAcalifornia.org