Fillmore City Council Regular Meeting
By Gazette Staff Writer — Monday, February 27th, 2012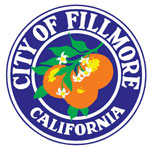 City of Fillmore
CITY OF FILLMORE CITY COUNCIL REGULAR MEETING
TUESDAY, FEBRUARY 28, 2012 6:30 P.M.
FILLMORE CITY HALL, CENTRAL PARK PLAZA, 250 CENTRAL AVENUE, FILLMORE, CALIFORNIA 93015-1907
AGENDA
1. Call to Order: 6:30 P.M.
2. Pledge of Allegiance
3. Roll Call: Councilmembers Brooks, Conaway, Gonzalez, Sipes and Mayor Washburn
4. Approval of Agenda
5. Presentations and Announcements
6. Public Comments
7. Consent Calendar
Recommendation for Items A. through B. is to Approve.
A. Warrant List for FEBRUARY 28, 2012.
B. Biennial Review and Adoption of Resolution No. 12-3329, Amending the City's Conflict of Interest Code
8. Department Reports
City Manager
A. AN ORDINANCE OF THE CITY OF FILLMORE REPEALING SECTION 3.08.090 OF THE FILLMORE MUNICIPAL CODE
Recommendation: 1). Waive further reading and introduce by title only Ordinance No. 12-833 AN ORDINANCE OF THE CITY OF FILLMORE REPEALING SECTION 3.08.090 OF THE FILLMORE MUNICIPAL CODE
City Attorney
B. Sales Tax Litigation Update Presentation.
Recommendation: 1). Receive the presentation.
Community Development
C. Direction to Staff to verify Regional Housing Needs Assessment (RHNA) numbers from the previous planning period and assess its possible impact on current RHNA numbers and General Plan Build Out as well as presentation of information related to current RHNA numbers for the period 2014 through 2021
Recommendation: 1) Direct City staff to verify RHNA from previous planning period and report back to City Council on March 13 to determine if an appeal should be made.
City Manager
8D. Consideration of the Tot Lot Design and direction to Staff to proceed with taking the necessary actions to bid the Tot Lot Project to be constructed with $320,621 in Community Development Block Grant (CDBG) funds at Two Rivers Park and to authorize the City Manager or her designee to take all necessary actions to accomplish the Council direction
Recommendation: 1) Direct that an agreement for project management be developed with the Fillmore Unified School District;
and
2) Direct that contract specifications be prepared to enable the bidding of the Tot Lot at Two Rivers Park with whatever changes are necessary to include the Davis Bacon consultants required by the County or any other statutory requirement.
9. Committee, Commission, and Board Reports
10. City Council Reports, Recommendations, and Comments
A. City Councilmember Travel Requests/Brief Reports
B. Any Councilmember May Propose Items for Placement on Future Agenda
C. Council Referrals/Brief Comments
11. City Manager
A. Follow-Up on Requests from the Public/City Council
B. Announcements and Upcoming Issues
12. Closed Session
A. Conference with Legal Counsel – Existing Litigation (subdivision (a) of Section 54956.9): City of Industry and City of Livermore v. City of Fillmore, et. al. Case No. BC411865, Los Angeles County Superior Court.
13. Adjournment: City Council adjourned. The next regular meeting of the City Council is scheduled for Tuesday, March 13, 2012 at 6:30 p.m. at City Hall, 250 Central Avenue.