Ventura County Sheriff's Inmate Slashes The Face Of Another Inmate at Ventura County Jail
By Ventura County Sheriff Department — Tuesday, February 24th, 2015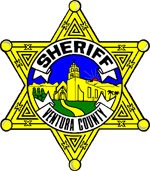 Ventura County Sheriff's Department
On February 17, 2015, Ventura County Sheriff's Inmate Anthony Baty walked up to another inmate who was asleep on his bed and slashed him with a jail made "shank" (knife) across his face just missing his neck area. Medical staff and jail personnel responded and treated the victim for his injury. The victim was transported and received further treatment at the Ventura County Medical Center (VCMC).
An investigation by the Sheriff's Major Crimes Bureau and Jail Classification Unit was conducted. It appeared Baty and the victim had a verbal argument the day prior which prompted Inmate Baty to attack the victim.
The victim sustained an approximate 6" laceration to the right side of his lower face. The victim was treated for his injury and returned to the Ventura County Jail.
Baty was subsequently arrested for 664/187 PC (attempted murder) and 4502(b) PC (manufacture a weapon in a custody facility).
Nature of Incident: Ventura County Sheriff's Inmate Slashes The Face Of Another Inmate
Report Number: 15-3713
Location: Ventura County Sheriff's Pre Trial Detention Facility
Date & Time: February 17, 2015 / 0830 Hours
Unit(s) Responsible: Sheriff's Detention Services Division & Major Crimes Bureau
(S)uspects, (V)ictims, City of Residence
(V) Male Victim Oxnard
(S) Anthony Aaron Baty Ventura
Prepared by: Sgt. Anthony Aguirre
News Release Date: February 23, 2015
Media Follow-Up Contact: Sgt. Anthony Aguirre / 805 384-4730
anthony.aguirre@ventura.org
Approved by: Captain Melissa Smith