Ventura County Recognizes The Great California Shakeout
By Ventura County Sheriff Department — Tuesday, October 1st, 2013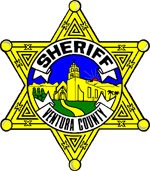 Ventura County Sheriff's Department
On October 17, 2013 at 10:17 a.m., millions of Californians will "Drop, Cover, and Hold On" in "The Great California ShakeOut." The drill is meant to inspire Californians to get ready for Earthquakes and to prevent disasters from becoming catastrophes. Currently, there are over 8.7 million registered participants in California, with over 162,100 of them from Ventura County.
On October 8, 2013 at 10:00 a.m., the Ventura County Board of Supervisors will present a resolution proclaiming the County of Ventura's participation in "The Great California ShakeOut."
"Earthquakes strike violently, and without warning, and preparation is vital to our success. This drill is a great opportunity for Ventura County residents to learn what to do before, during and after an earthquake," said Kevin McGowan, Assistant Director of the Ventura County Sheriff's Office of Emergency Services.
To register for the drill, go to www.shakeout.org. The free registration will pledge an individual or an organization's participation in this event. Also, participants will receive great information on how to prepare for a major earthquake in the region.
To participate in the drill on October 17, 2013 at 10:17 a.m., "Drop, Cover, and Hold On," just as if you were in an actual earthquake, and stay in this position for at least 60 seconds.
For more information on how to be better prepared, please visit the Ready Ventura County website at www.readyventuracounty.org. Also, follow us on Facebook (www.facebook.com/ReadyVC) and Twitter (www.twitter.com/ReadyVC) for weekly preparedness tips, news and events.
Nature of Incident: Ventura County Recognizes The Great California Shakeout
Location: Ventura County Government Center, Board of Supervisors Hearing Room, 800 S. Victoria Avenue, Ventura, CA
Date & Time: 10/8/13 @ 10:00 AM
Unit Responsible: Ventura County Sheriff's Office of Emergency Services
Prepared by:
Gil Zavlodaver, Program Administrator
Media Release Date: 10/01/13
Follow-Up Contact: Gil Zavlodaver, Program Administrator (805) 654-3655
gil.zavlodaver@ventura.org
Approved by: Kevin McGowan, Assistant Director