Ventura County to participate in The Great California ShakeOut
By Anonymous — Tuesday, October 6th, 2009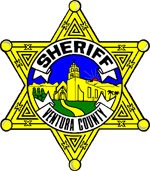 Ventura County Sheriff's Department
Date & Time: October 15, 2009 10:15 AM
Unit Responsible: Ventura County Sheriff's Office of Emergency Services
At 10:15 a.m. on October 15, 2009, millions of Californians will "Drop, Cover, and Hold On" in The Great California ShakeOut. The drill is organized to inspire Californians to get ready for big earthquakes and to prevent disasters from becoming catastrophes. Individuals, families, businesses, schools, colleges, government agencies, organizations, and media are all invited to register and participate. Currently, there are 6 million registered participants in California, with 81,172 from Ventura County. The event is expected to be largest earthquake drill ever!
"With only seconds to react, practicing what you will do in an actual earthquake is an important part of being prepared," said Laura Hernandez, Assistant Director of Disaster Services with the Ventura County Sheriff's Office of Emergency Services.
To register for the drill, go to www.shakeout.org. The free registration will pledge an individual's or group's participation in this important preparedness event. Participants will receive information on how to prepare for a major earthquake in the region and what actions to take during and after the shaking.
To participate in the drill, "Drop, Cover, and Hold On" as you would do in an actual earthquake, and stay in this position for at least 60 seconds.
Free resources are available online at www.shakeout.org/resources, which include: ShakeOut drill manuals for schools, businesses, non-profit organizations, and government agencies; ShakeOut web banners; ShakeOut multi-media including "ShakeOut Drill Broadcast" recordings to play during your drill; and ShakeOut flyers for individuals, neighborhoods, CERT, schools, scouts, colleges and universities, businesses, non-profits, faith-based groups, medical centers, local government, museums, and media organizations.
The main goal of the ShakeOut is to get Californians prepared for major earthquakes, so use the ShakeOut as an opportunity to learn what to do before, during, and after an earthquake.
For more information of how to prepare, please visit the County of Ventura website at www.countyofventura.org and click on the Disaster Information link. This website will display current information in the event an emergency, educate residents on the hazards in our area, and provide a resource on how to prepare, respond and recover from a disaster in our area.