Vehicle Shot at while Driving Through Thousand Oaks
By Ventura County Sheriff Department — Thursday, November 18th, 2010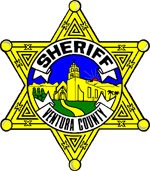 Ventura County Sheriff's Department
A 32-year-old Oak Park woman suffered a minor injury when her sport utility vehicle was struck by a bullet while she was driving on Thousand Oaks Boulevard early Monday morning.
The victim was traveling eastbound on Thousand Oaks Boulevard near Via Colinas at 4:00 a.m. when the driver's side window of her vehicle shattered. The victim suffered a minor injury when fragments struck her face. However, she initially thought someone had possibly thrown a rock at her vehicle.
The victim drove home, but later sought medical treatment at a hospital for her injury. The victim's doctor examined the injury and concluded that she had possibly been shot. Evidence found by investigators in the area of the incident and inside the victim's vehicle confirmed that a firearm had been used by an unidentified assailant.
Anyone with information about who was responsible for the shooting is asked to contact Detective Allen Devers of the Major Crimes Bureau at (805)494-8222. Ventura County Crime Stoppers will pay up to $1,000 reward for information that leads to the arrest and criminal complaint against the person(s) responsible for this crime. The caller may remain anonymous. The call is not recorded. Call Crime Stoppers at 800-222-TIPS (8477).
Location: Thousand Oaks Boulevard @ Via Colinas, Thousand Oaks, Ca.
Date & Time/ RB#: Nov. 15, 2010 @ 4:00 a.m. / 10-27755
Unit Responsible: Thousand Oaks Police Department Major Crimes Bureau
Officer Preparing Release: Detective Eric Buschow (805)494-8226 / (805)947-8129
Follow-up Contact: Detective Allen Devers (805)494-8222
Date of Release: Nov. 17, 2010
Approved By: Captain Bruce Watlington