By Ventura County Sheriff Department — Monday, August 18th, 2014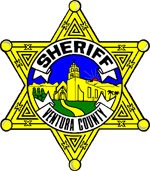 Ventura County Sheriff's Department
On August 14, 2014, at 9:50 a.m., a deputy assigned to the Camarillo station was on routine patrol in the 1300 block of Del Norte Road. The deputy observed an adult male near the businesses in the area that appeared to be injured and unresponsive. The Ventura County Fire Dept. and an ambulance were summoned. The male was pronounced deceased at the scene.
Major Crimes Detectives are handling the investigation. Anyone with information about this incident can call Detective Albert Ramirez at (805) 384-4738.
The deceased male's identity is not being released at this time, pending family notification by the Ventura County Medical Examiner's Office.
Nature of Incident: Suspicious Death
Report Number: 14-18518
Location: 1300 block Del Norte Rd
Date & Time: August 14, 2014 / 9:50 AM
Unit(s) Responsible Sheriff's Major Crimes
(S)uspects, (V)ictims, (P)arty, (D)ecedent City of Residence Age
Adult Male
Prepared by: Sergeant Denise Sliva
Media Release Date: August 14, 2014
Follow-Up Contact: Sergeant Denise Sliva, (805) 947-9258, Denise.sliva@ventura.org
Approved by: Captain Chris Dunn
Ventura County Crime Stoppers will pay up to $1,000 reward for information, which leads to the arrest and criminal complaint against the person(s) responsible for this crime. The caller may remain anonymous. The call is not recorded. Call Crime Stoppers at 800-222-TIPS (8477).