Suspect Arrested for Committing Lewd Acts with a Child
By Ventura County Sheriff Department — Tuesday, July 1st, 2014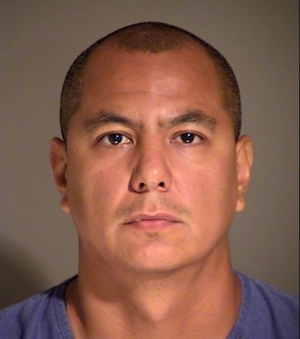 Adam Esquivel, Camarillo, 38
On June 25, 2014, Investigators with the Ventura County Sheriff's Office Major Crimes Bureau arrested Adam Esquivel for committing a lewd act with a child under 10 years old. Esquivel had inappropriately touched a 3-year-old victim while the victim was at Esquivel's residence. Esquivel is a member of the United States Navy. Esquivel is currently in custody at the Ventura County Pre-Trial Detention Facility on $250,000.00 bail. He will be arraigned in Ventura County Superior Court on June 27, 2014.
Due to the seriousness of the crime, the Ventura County Sheriff's Office would like to know if Esquivel may have assaulted other victims. Anyone with information that may help in identifying witnesses or other potential victims is asked to contact the Sheriff's Major Crimes Bureau, Detective Frances Saleh at 805-384-4729.
Nature of Incident: Suspect Arrested for Committing Lewd Acts with a Child
Report Number: 14-13377
Location: 2000 Block of Herron Court, Camarillo
Date & Time: June 25, 2014 @ 1540
Unit(s) Responsible: Ventura County Sheriff's Office – Major Crimes Bureau
(S)uspects, (V)ictims, (P)arty, (D)ecedent City of Residence Age
(S) Adam Esquivel, Camarillo, 38
(V) Female Juvenile, Camarillo, 3
Prepared by: Sgt. Anthony Aguirre
Media Release Date: June 26, 2014
Follow-Up Contact: Sgt. Anthony Aguirre 805-384-4721
Anthony.aguirre@ventura.org
Approved by: Captain Chris Dunn
Ventura County Crime Stoppers will pay up to $1,000 reward for information, which leads to the arrest and criminal complaint against the person(s) responsible for this crime. The caller may remain anonymous. The call is not recorded. Call Crime Stoppers at 800-222-TIPS (8477).