Suspect Arrested on Arson Charges for Vehicle Fires at County Government Center
By Ventura County Sheriff Department — Monday, February 23rd, 2015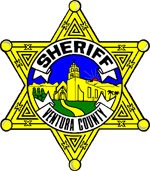 Ventura County Sheriff's Department
On February 21, in the early morning hours, patrol deputies responded to a report of vehicles on fire at the Ventura County Government Center public parking lot. Upon arrival at the scene there were several parked vehicles on fire as they encountered suspect Jeffrey Landis. Deputies attempted to detain Landis for arson but he resisted. Less Lethal force and a Sheriff's K9 was used to take Landis into custody. Landis sustained minor injuries and has been booked at the Pre-Trial Detention Facility.
The vehicle fires were first observed by CHP officers as they were leaving the Pre-Trial Detention Facility. Shortly after, deputies arrived on scene and arrested Landis. Ventura City Fire Department extinguished the fire. Landis was treated at a local hospital for his injuries prior booking.
Five vehicles were burned. Four of the vehicles were property of the County of Ventura. One County of Ventura vehicle had moderate damage. The rest of the burned vehicles were total losses.
A small backpack claimed by Landis was on the ground at the scene of the vehicle fires. Landis made statements of a possible explosive device in the backpack. The Sheriff's Bomb Squad responded and rendered the backpack safe. There were no evacuations or street closures during the incident.
Sheriff's and Ventura County Fire Department Arson Investigators as well as Sheriff's Major Crimes detectives are continuing with the investigation. Anyone with information about this incident is urged to call Sheriff's Major Crimes Detective Ryan Clark at (805) 384-4721.
Landis was booked for arson and resisting arrest. His bail is set at $ 20,000.
Nature of Incident: Suspect Arrested on Arson Charges for Vehicle Fires at County Government Center
Report Number: 15-4075
Location: Ventura County Government Center
800 S. Victoria Ave., Ventura
Date & Time: February 21, 2015 @ 4:15 a.m.
Unit(s) Responsible: Sheriff's Major Crimes Bureau, Bomb Squad, Arson Unit, Ventura County Fire Department Arson Unit
(S)uspects, (V)ictims, (P)arty, (D)ecedent City of Residence Age
(S) Landis, Jeffrey Santa Monica 36
Prepared by: Captain Don Aguilar
News Release Date: 2/21/15
Media Follow-Up Contact: Captain Don Aguilar (805) 797-7349
don.aguilar@ventura.org
Approved by: Captain Melissa Smith
Ventura County Crime Stoppers will pay up to $1,000 reward for information, which leads to the arrest and criminal complaint against the person(s) responsible for this crime. The caller may remain anonymous. The call is not recorded. Call Crime Stoppers at 800-222-TIPS (8477).