Sheriff's Patrol Stations Unused/Expired Prescription Medication Collection Bin Results for 2014
By Ventura County Sheriff Department — Tuesday, January 27th, 2015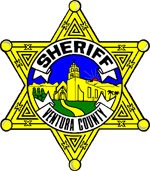 Ventura County Sheriff's Department
The Ventura County Sheriff's Office is very pleased to announce that we have collected 5,538 pounds of unused / expired medication for the year 2014. During 2013, we collected a total of 5,288.2 pounds of unused medication.
A breakdown of the 2014 collection totals is as follows: Ojai PD – 210.7 pounds, Fillmore PD – 61.5 pounds, Camarillo PD – 2,161.2 pounds, Moorpark PD – 432.1 pounds, Headquarters – 339.4 pounds and Thousand Oaks PD – 2,334 pounds. The Ventura County Sheriff's Office would like to thank the citizens of Ventura County for their outstanding effort to make our communities safer.
The non-medical use of prescription drugs ranks second only to marijuana as the most common form of drug abuse in America. Additionally, the majority of teenagers abusing prescription drugs get them from family, friends and the home medicine cabinet. Unused drugs that are flushed contaminate the water supply.
If you want to drop off unused / expired medications at any Sheriff's Substation, we have Pharmaceutical drop-off bins in all of our lobbies. The lobbies are open Monday-Friday from 8:00AM - 5:00PM.
Nature of Incident: Pharmaceutical Collections for the year 2014
Report Number:
Location: All Sheriff's Sub-Stations
Date & Time: 01/23/2015 - 1100
Unit(s) Responsible: Ventura County Sheriff's Office
(S)uspects, (V)ictims, (P)arty, (D)ecedent City of Residence Age
Prepared by: Sergeant John M. Franchi
News Release Date: 01/23/2015
Media Follow-Up Contact: Sergeant John M. Franchi / 805-388-5135
Approved by: Captain Eric Dowd