Sheriff's Investigators Had Key Role in Tracking "Operation Wicked Hand" Fugitive Librado Navarette, Leading to His Arrest
By Ventura County Sheriff Department — Tuesday, January 27th, 2015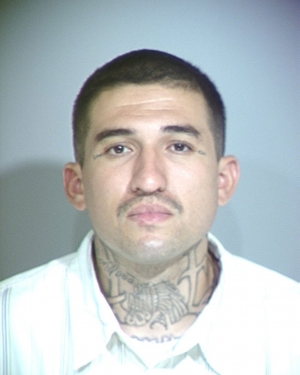 Navarette
On January 21, the United States Marshals took custody of a violent Ventura County Fugitive who had been hiding in Mexico since 2013. The Fugitive, Librado Navarette, skipped bail and fled to Mexico to avoid prosecution in a Mexican Mafia related gang case.
In 2012, the Ventura County Sheriff's Office led a seven month investigation into the Mexican Mafia's activities in Ventura County. The investigation, known as Operation Wicked Hand, resulted in the largest criminal indictment in the history of Ventura County with 27 indicted and an additional 16 arrested. The charges included conspiracy to commit assault, extortion, home invasion robberies, narcotics trafficking and other related crimes.
During the investigation, Librado Navarette was intercepted planning a home invasion robbery in the City of Camarillo. Deputies foiled the robbery by conducting a parole search on his home and locating a firearm. Navarette, who was on probation, was arrested and booked into Ventura County Jail. He remained in custody on the weapons charge until he was indicted in November 2012 on more serious extortion charges. His bail was set at $5,000,000.
In June of 2013, Navarrete's bail was reduced to $500,000. With family member's assistance, he was able to post bail and was released from custody in July of 2013. On October 1, 2013, Navarette failed to appear in court and a $1,000,000 arrest warrant was issued. A month later, Navarettte was indicted in an unrelated federal investigation.
Ventura County Sheriff's investigators received reliable intelligence that Librado had ties to the Sinoloa Cartel and was hiding in Mexico. Over the next year, the Oxnard Police Department, Ventura County Sheriff's Department, United States Marshals Service and Mexican authorities worked to locate and arrest Navarette. Narcotics investigators from The Ventura County Combined Agency Team received reliable intelligence on a possible location Navarette was hiding. That information was relayed to the United States Marshals Service and led to the arrest of Navarette.
Navarette is currently in United States federal custody. It is expected that The Ventura County District Attorney's office will make arrangements to bring Navarette back to Ventura County.
Navarette was taken into custody in Mexico after faking his own death. To view the U.S. Marshal's media release in reference to the arrest of Librado Navarette, visit http://goo.gl/tLc0mK