Sheriff's Detectives Initiate Investigation into Regional Loan Modification Scam, Leading to Arrests
By Ventura County Sheriff Department — Tuesday, January 27th, 2015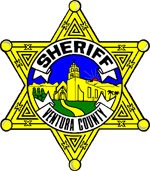 Ventura County Sheriff's Department
In October of 2012, a Moorpark citizen came to the Moorpark Police Department and reported being the victim of a loan modification scam. The victim identified the suspects as operating a business in Orange County called Debt Settlers of America.
Detectives from the Moorpark Police Investigations Unit conducted an extensive investigation that revealed dozens of potential victims in the loan modification scam operated out of the Debt Settlers of America business that occurred between December 2009 and December 2012. Detectives located additional victims in Ventura County and throughout the State of California. The victims were primarily of Hispanic descent.
The case was presented to the Orange County District Attorney's Office, and they elected to file over one hundred twenty felony counts against five defendants. All five of the defendants were taken into custody in Orange County and are awaiting further hearings.
The Orange County District Attorney's Office issued a joint news release with contact information for potential additional victims. The news release can be viewed at http://goo.gl/dp7oU8