Sex Registrant Compliance Checks
By Ventura County Sheriff Department — Tuesday, July 22nd, 2014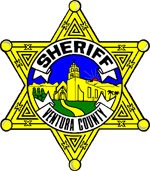 Ventura County Sheriff's Department
On July 19, 2014, deputies from the Ventura County Sheriff's Office conducted compliance checks at the residences of forty registered sex offenders in the communities of Saticoy, El Rio, Nyeland Acres, Hollywood Beach, Silver Strand Beach and the Rincon. The compliance checks were part of the Sexual Assault Felony Enforcement (SAFE) grant.
Thirty five of the forty registered sex offenders were in compliance with their registration requirement. Five of the registrants were not contacted because they were not home or had moved. Sheriff's detectives will follow-up to determine if the registrants are out-of-compliance.
The Ventura County Sheriff's Office will be conducting similar sweeps throughout the county. The purpose is to verify registered sex offenders are living at their reported residences and in compliance with any probation or parole terms.
Residents of Ventura County can visit the Megan's Law website (www.meganslaw.ca.gov) to familiarize themselves with the sex registrants in their community.
Nature of Incident: Sex Registrant Compliance Checks
Report Number: N/A
Location: Unincorporated Areas of Ventura and Oxnard
Date & Time: July 19, 2014
Units Responsible: Ventura County Sheriff's Office
Ventura County Probation Department
Deputy Preparing Media Release: Sergeant Anthony Aguirre
Media Release Date: July 22, 2013
Follow-Up Contact: Investigator Jim Botting / 805-384-4743
Jim.botting@ventura.org
Approved by: Captain Patti Salas
Ventura County Crime Stoppers will pay up to $1,000 reward for information, which leads to the arrest and criminal complaint against person(s) responsible for crimes within our community. The caller may remain anonymous. The call is not recorded. Call Crime Stoppers at 800-222-TIPS (8477).