Residential Burglary Arrests Made
By Ventura County Sheriff Department — Wednesday, September 3rd, 2014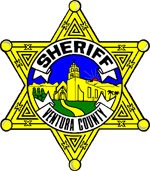 Ventura County Sheriff's Department
On Sunday, August 24, 2014, a burglary occurred in the 600 block of McAndrews Road, in Ojai. The suspects stole jewelry, computers, credit cards, and other miscellaneous property. Investigators from the Ojai Patrol Station, working with detectives from the Ventura Police Department, identified one male suspect, Frank Morales, and one female suspect, Mellissa Carrillo. The two suspects had made purchases with the victim's credit cards in Ventura.
On August 28, 2014, it was learned Frank Morales was the focus of a parallel investigation by the Oxnard and Port Hueneme Police Departments related to a separate burglary. The Port Hueneme Police Department was successful in apprehending Morales after a brief foot pursuit. Working collaboratively, Ventura Sheriff, Oxnard and Port Hueneme detectives were able to later locate and apprehend Mellissa Carrillo. Detectives are actively working to recover the victim's stolen property and determine whether the two are responsible for any other burglaries in the area. Both Morales and Carrillo were booked at the Ventura County Main Jail for forgery, burglary, possession of stolen property, and conspiracy.
Nature of Incident: Residential Burglary Arrests Made
Report Number: 14-19355
Location: 600 Block McAndrews Road, Ojai
Date & Time: August 28, 2014, 2:30 p.m.
Unit(s) Responsible: Ventura County Sheriff's Office – Ojai Station Investigations Unit
Prepared by: Sgt. Kevin Donoghue (805) 797-7131
Media Release Date: August 29, 2014
Follow-Up Contact: Det. Michael Harris, Ojai Investigations (805) 646-1414
Approved by: Capt. Watkins
Ventura County Crime Stoppers will pay up to $1,000 reward for information, which leads to the arrest and criminal complaint against the person(s) responsible for this crime. The caller may remain anonymous. The call is not recorded. Call Crime Stoppers at 800-222-TIPS (8477).