By Ventura County Sheriff Department — Monday, February 23rd, 2015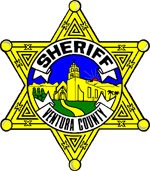 Ventura County Sheriff's Department
Scammers have been busy pretending to be police officer's by defrauding residents out of thousands of dollars by employing the red light scam.
Recently, several Thousand Oaks residents have been contacted by phone claiming their photograph was captured while failing to stop for a red light at an intersection. The suspect tells the victim the violation had been ignored and there is a warrant for their arrest. The victim is told the warrant can be cleared by paying the bail. The victim is instructed to purchase a "Reload It" gift card for the full amount of the bail and to re-contact the suspect to provide the information on the gift card. This information allows the suspect to take the money from the card. Once the money is removed from the card, the money is lost.
The Thousand Oaks Police Department and other local police agencies do not attempt to collect fines by phone. Traffic violators are told to either go to court to pay the fine or mail their payment to the courthouse. No police agency will ask you to pay a fine using a gift card or reloadable card.
Although the intersections within the city of Thousand Oaks are not equipped with red light cameras, we ask residents to drive safely. Avoid becoming a victim of a scam by researching the particular request from the suspect or by calling Detective Lohman (805) 494-8232, before you send money or reloadable gift cards.
Nature of Incident: Police Warn Public of Red Light Scam
Location: Thousand Oaks
Date & Time: 02/17/2015 – 1:30 PM
Unit Responsible: Thousand Oaks Investigations Unit
Prepared by: Detective Timothy Lohman
Media Release Date: February 19, 2015
Media Follow-Up Contact: Timothy Lohman (805) 494-8232 Tim.lohman@ventura.org
Approved by: Captain Ross Bonfiglio