Recent Agricultural Area Burglaries
By Ventura County Sheriff Department — Wednesday, September 3rd, 2014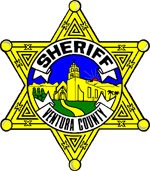 Ventura County Sheriff's Department
On August 28, 2014, The Ventura County Sheriff's Office received a call for service reference a commercial burglary at a ranch in Somis. The ranch has been the target of several burglaries over the past two weeks. The initial investigation revealed that unidentified suspect(s) forced entry into a large storage building and stole various gardening tools including chainsaws, leaf blowers, and "weed-whackers." The suspect(s) also stole a flatbed truck from the location. The stolen vehicle was later recovered at the scene of a second burglary location in the Oxnard Plains. While investigating the second reported burglary, deputies discovered that a vehicle was stolen from that location as well, and is still outstanding.
Citizens are asked to report burglaries immediately to the Sheriff's Office and to stay out of the crime scene to protect potential evidence. The Sheriff's Office also recommends that vehicles be stored in a secure manner, with keys kept away from the vehicle. We also recommend that citizens mark their equipment for identification and maintain record of the make, model, and serial numbers.
Anyone with information related to this series of burglaries is asked to contact the Ventura County Sheriff's Office or provide information anonymously via the Ventura County Crime Stoppers.
Nature of Incident: Recent Agricultural Area Burglaries
Report Numbers: 14-18829, 14-19541, 14-19619, 14-19620
Location: 3000 Block of Los Angeles Avenue, Somis
Date & Time: August 28, 2014 @ 01:30 AM
Unit(s) Responsible: Camarillo Police Department Investigations Bureau
Prepared by: Detective Ray Dominguez #3574
Media Release Date: August 28, 2014
Follow-Up Contact: Detective TJ DeSalvo (805) 388-5157
tj.desalvo@ventura.org
Approved by: Captain Renee Ferguson
Ventura County Crime Stoppers will pay up to $1,000 reward for information, which leads to the arrest and criminal complaint against the person(s) responsible for this crime. The caller may remain anonymous. The call is not recorded. Call Crime Stoppers at 800-222-TIPS (8477).