Pursuit Ending in Arrest of three Individuals
By Ventura County Sheriff Department — Wednesday, August 6th, 2014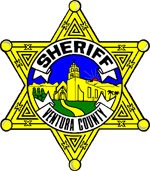 Ventura County Sheriff's Department
Today, at approximately 10:56AM, a Thousand Oaks Motorcycle Officer attempted to stop a vehicle traveling erratically in the area of Thousand Oaks Boulevard and Moorpark Road. A short pursuit ensued and the driver of the Dodge pick-up truck lost control, colliding with a fence and a tree which caused it to lose a front tire. The vehicle continued westbound on Thousand Oaks Boulevard, toward oncoming traffic, when the driver fled the moving vehicle. The vehicle came to a stop in the center median prior to entering the east bound lanes of Thousand Oaks Blvd. Two passengers remained in the truck until it stopped and were immediately taken into custody.
Approximately thirty minutes later, after an extensive search by the Sheriff's K9 Unit, Air Unit, and the CA Highway Patrol, the driver of the vehicle, identified as Thomas Meza, was arrested in a nearby residential neighborhood. Meza was located with the assistance of citizens who called in and advised his whereabouts.
Mesa and passenger Christopher Rodriguez were taken to area hospitals for treatment and released into Sheriff's custody. Both men were arrested and booked into the Sheriff's Pre-Trial Detention Facility. Ashley Moraga was also arrested and booked into the Sheriff's Pre-Trial Detention Facility. All three subjects were booked for numerous charges including Felony Evading / Hit and Run, possession of stolen property, warrants, being under the influence of drugs, and other potential drug related charges. Thomas Meza was also booked for Driving Under the Influence of Drugs.
Due to the nature of this incident, Investigators are continuing to gather information which could lead to additional victims of theft as well as additional charges to the suspects. Anyone with any pertinent information regarding this case is asked to contact the Thousand Oaks PD Traffic Bureau / Investigations Bureau.
Nature of Incident: Pursuit Ending in Arrest of three Individuals
Report Number: RB#14-17722
Location: 100 Block of Thousand Oaks Boulevard, Thousand Oaks CA
Date & Time: August 4, 2014 10:56 AM
Unit Responsible: Thousand Oaks Police Department Traffic Bureau
Thousand Oaks Police Department Investigations Bureau
Prepared by: Sgt. B. Payton
805.494.8246
Media Release Date: August 4, 2014
Follow-Up Contact: Deputy Marcos Moreno
805.494.8271
Approved by: Captain Mike Hartmann
Ventura County Crime Stoppers will pay up to $1,000 reward for information, which leads to the arrest and criminal complaint against the person(s) responsible for this crime. The caller may remain anonymous. The call is not recorded. Call Crime Stoppers at 800-222-TIPS (8477).