Pharmaceutical Crimes Unit Arrests Podiatrist for Prescription Fraud, Illegally Prescribing Large Amounts of Oxycodone
By Ventura County Sheriff Department — Monday, February 23rd, 2015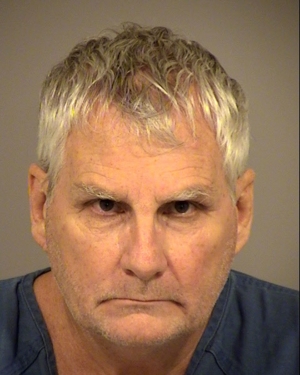 On February 20, 2015, members of the Health Quality Investigation Unit (HQIU) of the California Division of Investigation (formerly known as the Medical Board of California) and the Ventura County Interagency Pharmaceutical Crimes Unit (PCU) arrested Dr. Randolph Nordyke for multiple Health and Safety Code and Penal Code violations at his home in San Diego, California.
The HQIU and PCU concluded an investigation into Podiatrist Randolph Nordyke on February 20, 2015, with his arrest and service of a search warrant at his home. Investigators recently learned Dr. Nordyke, who was reportedly retired from his Ventura practice, was doctor shopping, and falsifying prescriptions, in order to feed his own oxycodone addiction. Dr. Nordyke, on multiple occasions, wrote prescriptions in one of his former Ventura County patient's name for large amounts of oxycodone. Dr. Nordyke then went to Ventura and San Diego area pharmacies and picked up the prescriptions posing as the husband of the patient. Dr. Nordyke was also visiting multiple doctors in the Ventura County area to obtain oxycodone prescriptions.
Dr. Nordyke was arrested for charges including identity theft, unlawfully prescribing controlled substances, forging prescriptions, and burglary. The investigation is continuing as to the extent of his "doctor shopping" as well as identifying other potential identity theft victims.
Dr. Nordyke relinquished his privilege to prescribe controlled substances to the Drug Enforcement Administration who also assisted in the investigation.
Dr. Nordyke was booked at Ventura County Main Jail with bail set at $50,000.
The Ventura County Interagency Pharmaceutical Crimes Unit is a task force comprised of members from the Ventura County Sheriff's Office, Simi Valley Police Department, the District Attorney's Office Bureau of Investigation, and the California Highway Patrol. The primary mission of the task force is combatting the transfer of legal prescription medication to the illegal market.
In addition, the task force works to identify and stop new trends of abuse among the younger population and investigates overdose deaths due to both prescription medication and illicit drug use. Anyone with information regarding these topics is encouraged to contact the Ventura County Interagency Pharmaceutical Crimes Unit at (805) 383-8700 or via e-mail at pharm.tip@ventura.org.
Nature of Incident: Ventura Podiatrist Arrested for Prescription Fraud
Report Number: 15-3983
Location: 1100 block of Pacific Highway, San Diego
Date & Time: February 20, 2015 at 08:00 am
Unit(s) Responsible: Division of Investigation- Health Quality Investigation Unit
Ventura County Interagency Pharmaceutical Crimes Unit
(S)uspects, (V)ictims, (P)arty, (D)ecedent City of Residence Age
(S) Dr. Randolph Nordyke San Diego 60
Prepared by: Sergeant Victor Fazio
News Release Date: February 20, 2015
Media Follow-Up Contact: Sergeant Victor Fazio
victor.fazio@ventura.org
(805) 856 8793
Approved by: Captain Curt Rothschiller