Oxnard man attempts suicide during morning commute on PCH
By Ventura County Sheriff Department — Wednesday, April 18th, 2012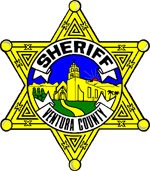 Ventura County Sheriff's Department
A 43-year-old Oxnard man tried to kill himself with a knife Tuesday morning while running in and out of traffic on PCH near the Point Mugu Naval Base.
A California Highway Patrol officer stopped on the shoulder of PCH to assist Paul Robinette, who appeared to be stranded with his vehicle. Robinette yelled at the officer and brandished a knife. Additional CHP officers and sheriff's deputies arrived on scene to assist.
Robinette ran across the north and southbound lanes waving the knife and stabbing himself repeatedly. The sheriff's deputies and highway patrol officers formed a plan and worked as a team to prevent Robinette from endangering other motorists on the busy highway. Deputies used a bean bag shotgun to try to subdue Robinette and keep him from causing himself further injury. Robinette was struck several times with bean bag rounds, but did not react to the impacts.
Robinette was eventually subdued when CHP officers used Tasers to stop him. Just before being tased, Robinette plunged the knife into his torso. A sheriff's helicopter flew Robinette to Los Robles Hospital and Medical Center in Thousand Oaks. Robinette underwent surgery, but is expected to survive.
No emergency responders or bystanders were injured during the incident. PCH was closed in both directions for more than an hour during the standoff.
Deputies found several suicide notes in Robinette's vehicle.
Nature of Incident: Oxnard man attempts suicide during morning commute on PCH
Report Number: 12-8428
Location: Pacific Coast Highway at Las Posas Road
Date & Time: Apr. 17, 2012 @ 7:43 AM
Unit Responsible: Ventura County Sheriff's Office / California Highway Patrol
(S)uspects, (V)ictims, (D)ecedent City of Residence Age
(V) Paul Robinette Oxnard 43
Deputy Preparing Media Release: Sgt. Eric Buschow
Media Release Date: Apr. 17, 2012
Follow-Up Contact: Sgt. Eric Buschow (805)947-8129
Approved by: Capt. Don Aguilar