Narcotics / Assault Weapon arrest
By Ventura County Sheriff Department — Monday, October 25th, 2010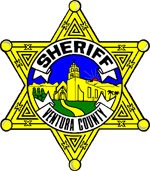 Ventura County Sheriff's Department
On 10-21-2010, gang investigators conducted a traffic stop on 50 year old Elidio Guajardo in the 1100 block of Navigator in the City of Ventura. Gang investigators had received information that Guajardo was in possession of narcotics and assault weapons. During the traffic stop, investigators discovered that he was under the influence of narcotics and in possession of cocaine. Guajardo was arrested and booked into the Ventura County Jail.
After Guajardo's arrest, gang investigators obtained a search warrant for his residence in the 10200 block of Mammoth, Ventura. Investigators served the search warrant later that day. A search of Guajardo's residence found an SKS assault rifle, an Uzi, a loaded handgun, cocaine and methamphetamine that was packaged for sale, as well as over a thousand dollars in cash. During the search, investigators also found that Guajardo had ties to the Mongols criminal street gang.
On 10-22-2010, Guajardo was arrested on additional charges that included possession of an assault rifle, possession for sales of narcotics, and possession of a controlled substance and loaded firearm. Guajardo remains in custody on $70,000 bail.
Report Number:
(RB #) 10-25694
Location:
10200 Mammoth, Ventura
Date & Time:
10-21-2010
Unit Responsible:
Ventura County Sheriff's Department Gang Unit
(S)uspects, (V)ictims, (W)itnesses (D)ecedent City of Residence Age
(S1) Guajardo, Elidio (Poss. of an assault Ventura, Ca. 50
weapon)
(Poss. Methamphetamine
for sale)
(Poss. Cocaine for sale)
(Poss. of a controlled
substance and firearm)
Deputy Preparing Media Release:
Sergeant Bill Schierman
Media Release Date:
10-22-2010
Follow-Up Contact:
Sergeant Bill Schierman (805) 654-2856
Approved by:
Captain O'Hanlon