By Ventura County Sheriff Department — Monday, July 28th, 2014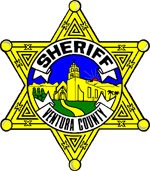 Ventura County Sheriff's Department
At approximately 12:45 a.m., deputies responded to a call of a stabbing in the 100 block of Holt Street in the unincorporated area of Ventura. A fight between two male subjects led to the victim being fatally stabbed. The victim, Devin Morris, was pronounced dead at the scene.
Major Crimes Detectives conducted numerous interviews and searches, ultimately leading to the identification and arrest of Howard Lovette for the homicide. Lovette was booked into the Pre-Trial Detention Facility with a bail of $500,000.00.
Anyone with information about the investigation is encouraged to call Major Crimes, Detective John Gleason at (805) 384-4727.
Nature of Incident: Murder
Report Number: RB# 14-16690
Location: 100 Block of Holt Street (Ventura Unincorporated)
Date & Time: July 23, 2014 @ approximately 12:45 a.m.
Unit(s) Responsible: Patrol / Major Crimes
Prepared by: Sergeant Denise Sliva
Media Release Date: July 23, 2014
Follow-Up Contact: Sergeant John Gleason, (805) 384-4727
John.Gleason@ventura.org
Approved by: Commander Brent Kerr
Ventura County Crime Stoppers will pay up to $1,000 reward for information, which leads to the arrest and criminal complaint against the person(s) responsible for this crime. The caller may remain anonymous. The call is not recorded. Call Crime Stoppers at 800-222-TIPS (8477).