Marijuana cultivation eradication and arrest
By Ventura County Sheriff Department — Monday, August 18th, 2014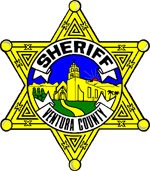 Ventura County Sheriff's Department
An aerial reconnaissance mission discovered illegal marijuana cultivation in the Los Padres National Forest north of the City of Ojai. One suspect was arrested.
In July 2014, Sheriff's Air Unit and narcotics detectives conducted an aerial reconnaissance mission in search of marijuana growing illegally in the Ventura County backcountry. Investigators located a large marijuana garden in the Los Padres National Forest north of the City of Ojai, in the Rose Valley area.
On August 12, a follow up flight was made in preparation for an eradication scheduled for August 14. It was discovered that approximately three fourths of the plants had been harvested. Investigators were dropped into the site and were searching for evidence when the Air Unit saw two subjects running through the brush. Detectives chased one subject through the heavy brush until he was eventually lost. The helicopter was able to maintain visual contact while another helicopter was summoned to bring additional personnel. Upon the arrival of the second helicopter, Josue Cardenas was taken into custody by a member of the Sheriff's Air Unit. He was booked into the Sheriff's Main Jail for cultivation of marijuana and resisting arrest.
On August 14, members of the Sheriff's Mountain Marijuana Eradication Team, the California National Guard, and the California Department of Justice Campaign Against Marijuana Planting (C.A.M.P.) eradicated the illegal marijuana cultivation. 847 marijuana plants, 5 to 6 feet tall, were eradicated and an additional 12 pounds of processed marijuana was seized. The campsite and cooking locations were removed as well as hundreds of feet of irrigation tubing, fertilizers, and trash. The suspects had diverted water from a natural spring approximately one half mile away. It appeared that several people had been working in the cultivation prior to the eradication.
Nature of Incident: Marijuana cultivation eradication and arrest
Report Number: 14-24769
Location: Los Padres National Forest, Rose Valley area
Date & Time: August 12 August 14, 2014
Unit(s) Responsible: Sheriff's Mountain Marijuana Eradication Team, Sheriff's Air Unit, California National Guard, California Department of Justice Campaign Against Marijuana Planting (C.A.M.P.)
(S)uspects, (V)ictims, (P)arty, (D)ecedent City of Residence Age
Josue Cardenas Kerman 23
Prepared by: Sergeant M. Horne
Media Release Date: 8/14/2014
Follow-Up Contact: Captain Don Aguilar
805-797-7349
Approved by:
Captain Randy Watkins