Investigators Arrest Suspects in National & International Criminal
By Ventura County Sheriff Department — Wednesday, August 27th, 2014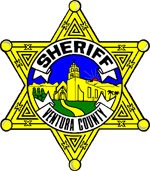 Ventura County Sheriff's Department
Law enforcement investigators have interrupted a complex criminal enterprise that was responsible for the distribution of large quantities of narcotics from Mexico into Ventura County and other parts of the United States. The investigation has culminated with the arrests of several individuals, including influential Mexican Mafia members. The suspects have been indicted by the Ventura County District Attorney's Office.
The year-long joint investigation was led by investigators from the Ventura County Sheriff's Office who formed a task force comprised of various local and federal agencies. The investigation found that members of the Mexican Mafia were conspiring with Drug Trafficking Organizations (D.T.O.) and the Sinaloa Cartel to import narcotics into the United States, including Ventura County.
The investigation found that the Mexican Mafia members controlled a vast network and used proceeds of the drug sales to fund their criminal enterprise. The Mexican Mafia used its reputation for violence to extort and control drug trafficking. The criminal origination also distributed narcotics to local gangs for the purposes of sales. Some of the proceeds were used to purchase guns for various gang members.
Thus far, detectives have seized $4,375,000 in cash and illicit drugs with a street value of over $5,000,000. The indictments list charges including extortion, conspiracy, criminal street gang enhancements, sales of controlled substances, and possession for sales of controlled substances.
Specifics on evidence seized:
 35 firearms
 69 pounds of methamphetamine
 Several liters of liquid methamphetamine
 52 pounds of cocaine
 3 pounds of tar heroin
 28 pounds of "China White" heroin
Nature of Incident: Investigators Arrest Suspects in National & International Criminal
Enterprise Ring
Location: Ventura County / United States / South America
Date & Time: August 26, 2014 @ 1:00 PM
Unit(s) Responsible: Ventura County Sheriff's Office
Ventura County District Attorney's Office
Oxnard Police Department
California Department of Corrections and Rehabilitation
Drug Enforcement Agency
Prepared by: Captain Don Aguilar
Media Release Date: August 26, 2014
Follow-Up Contact: Captain Don Aguilar
• (805) 797-7349
• don.aguilar@ventura.org
Sergeant Denise Sliva
• (805) 947-9258
• denise.sliva@ventura.org
Approved by: Assistant Sheriff Gary Pentis