By Ventura County Sheriff Department — Tuesday, July 1st, 2014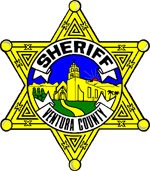 Ventura County Sheriff's Department
Major Crimes detectives and Jail personnel are investigating a Pre-Trial Detention Facility inmate death that occurred at Community Memorial Hospital in Ventura.
On June 27, 2014, the Oxnard Police Department arrested Juan Zavala for resisting arrest, resisting an executive officer and escape from arrest. Oxnard Police transported Zavala to the Ventura County Medical Center where he was treated and cleared for booking by hospital staff. At 10:14 PM, Oxnard Police booked Zavala at the Pre-Trial Detention Facility for the listed charges.
During the booking process, Zavala attempted to kick a deputy and was placed in a cell for his safety and constant monitoring. Zavala displayed bizarre behavior and signs of being under the influence of drugs.
At approximately 2:45 AM, just 4 ½ hours from the time Zavala was brought into the jail, medical staff and jail personnel came to the aid of Inmate Zavala who was in distress in his cell. Staff provided emergency medical aid while additional resources were summoned. Ventura City Fire personnel and paramedics arrived and Zavala was transported to Community Memorial Hospital by ambulance. Zavala was treated by hospital staff and later pronounced dead at about 2:00 PM.
The cause of death is under investigation by the Sheriff's Major Crimes Unit, pending an autopsy by the Medical Examiner.
Nature of Incident: Inmate Death
Report Number: 14-14655
Location: Pre-Trial Detention Facility / Community Memorial Hospital
Date & Time: June 28, 2014 / 0245 hours
Unit(s) Responsible: Major Crimes Unit and Detention Services Legal Unit
(S)uspects, (V)ictims, (P)arty, (D)ecedent City of Residence Age
Juan Zavala (D) Oxnard 32
Prepared by: Sgt. Dave Lareva
Media Release Date: June 29, 2014
Follow-Up Contact: Sgt. Tony Aguirre (805) 384-4721
Approved by: Commander Rick Barrios