Illegal Marijuana Cultivation Arrests
By Ventura County Sheriff Department — Tuesday, August 12th, 2014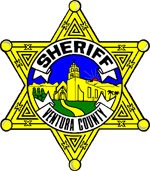 Ventura County Sheriff's Department
Acting on a tip, narcotics investigators discovered an illegal marijuana cultivation.
In July 2014, narcotics investigators received information of a possible marijuana cultivation on Monterey St, in the unincorporated area of Ojai known as Mira Monte. Detectives drove to this area and were able to see several marijuana plants in the backyard of a residence.
On July 18, 2014, a Search Warrant was served at the house. Investigators located 99 marijuana plants, 6'- 8' tall. The search of the residence revealed 6.6 pounds of processed marijuana, over $7,000.00 in cash, and two guns.
The occupants of the residence, Barry Lee Case, and his son, Barry Niel Case, were arrested for possession of marijuana for sale and cultivation of marijuana. Both were booked into the Sheriff's Main Jail
Nature of Incident: Illegal Marijuana Cultivation Arrests
Report Number: 14-16328
Location: 100 Block of Monterey St, Ojai
Date & Time: July 18, 2014, 1130 hours
Unit(s) Responsible: Ventura County Narcotics Bureau, West County Street Team, Santa Paula Police Department
Prepared by: Sgt Mike Horne
Media Release Date: August 6, 2014
Follow-Up Contact: Captain Don Aguilar
805-797-7349
Approved by: Captain M. Franke