By Gazette Staff Writer — Wednesday, April 22nd, 2009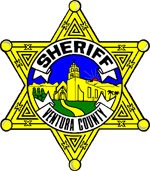 Ventura County Sheriff's Department
Location: Santa Paula Canyon-Punch Bowls
Date & Time: 04/19/2009-3:35 p.m.
Unit Responsible: Ventura County Sheriff's Search And Rescue, Aviation Unit.
Victims: Justin Stenshol (21yrs) from Santa Paula, Ca.
Narrative: On Sunday, April 19, 2009 the Ventura County Sheriff's Department Aviation / Search and Rescue Unit received a report of an injured person in the area of the "Punch Bowls" in Santa Paula Canyon. The Sheriff's Department rescue helicopter was dispatched with a full rescue flight crew that included two flight medics.
Upon arrival at the scene, they were directed to the lower area of the Punch Bowls. This area is located in the Los Padres National Forest and is very rugged and only accessible by hiking. The victim, Justin Stenshol was located next to a large pool of water and being tended to by friends. Both flight medics were hoisted 185 feet down from the helicopter, with medical equipment, to Stenshol. Stenshol reported that he had jumped 75 feet from a cliff above into the pool of water and injured himself.
Stenshol was placed on a backboard and secured in a stokes basket then hoisted into the helicopter along with the medics. Stenshol was then flown to the Ventura County Medical Center for additional medical treatment.
The Ventura County Sheriff's Department would like to remind people to use the utmost caution when hiking in the remote areas of our county. Ventura County is a great place to get outdoors and explore. Keep safety in mind when enjoying these areas and be sure to let someone know where you are planning to go and how long you plan to be out. With the warmer weather and the summer months just around the corner, more and more people will be out and about enjoying the remote areas of the county. Please be prepared.