By Ray Dominguez — Wednesday, September 10th, 2014
July – August 2014 Edition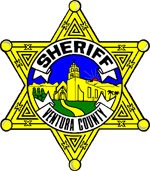 Ventura County Sheriff's Department
A message from Detective Ray Dominguez:
Farm Watch readers, a review of recent crime/incident reports reveal we are experiencing a number of burglaries at locations spread out across the unincorporated areas of the county including the Oxnard Plains, Somis, and Santa Paula/Fillmore. The burglars are targeting storage barns and conex storage containers. The crooks are stealing gardening equipment including chainsaws, leaf blowers, "weed-whackers," and other power equipment. During the commission of the burglaries, the suspects are also stealing farm vehicles that are being used to transport the stolen equipment. The stolen vehicles are then used in subsequent burglaries and later dumped when a different vehicle is stolen at the secondary location.
I have found that victims reporting these burglaries are routinely leaving the vehicle keys in the ignition. This is a bad practice that simply makes it easier for the crooks to steal your vehicle!
Please don't leave the keys to your trucks, tractors, UTV's, ATV's and other equipment in the ignition. Make sure that your vehicles are stored in a secure manner and the keys to the vehicles and equipment are stored apart. Bring vehicles into secure areas overnight and avoid leaving them in farm fields or other unsecure areas. Vehicles that are left in plain sight attract vandals and thieves looking to damage or steal your property. If vehicles or other equipment are being stored over an extended period of time, you may want to consider disconnecting power supplies, removing car batteries or installing kill-switches. If storing trailers or other portable equipment, you may consider removing the tires or placing a parking "wheel boot" type of theft deterrent device on it. There are plenty of vendors on the internet marketing these devices for various applications.
With regard to tools and other portable equipment, make sure that you keep a current inventory and mark it for identification. Keep make, model, serial number and any other identification information documented for easy reference. Take photos of your equipment and save them in a file for easy access when you need it.
I also wanted to alert those of you involved in the business of shipping commodities about a case
I am currently investigating. The case is of concern because it involves a cargo theft in which a large shipment of avocados was stolen from a local packing house. This type of theft has not been common in our area, but I believe there is potential for it to become more commonplace. I have been in contact with Cargo Theft Investigators from the Los Angeles Police Department and the California Highway Patrol, who investigate these cases on a regular basis. I was told they have been investigating cases similar to mine that involve organized crime groups that specialize in this type of criminal activity.
I wanted to share what I have learned from these investigators in hopes that it will help minimize your chances of becoming their next victim. Here are a few tips they provided:
They emphasize the need to handle your due diligence and have a protocol in place that addresses checking references for transportation companies and their drivers, regardless of whether this is a carrier you commonly do business with or not. Remember these organized crime groups are banking on the fact that you have probably used the services of the legitimate company before, and will not question the paperwork provided.
Review the carrier packet and verify the information provided.
Check the insurance packet and verify information.
Verify Vehicle Identification Numbers (VIN) and license plates on the tractor/trailer combo and document it for your records.
Ask to see the driver's identification and make a photocopy of the driver license.
Require the driver to provide a thumbprint.
Photograph the driver.
In my case, a broker company posted the transportation job on an electronic billboard type system commonly used in the shipping industry. It appears that the suspect(s) in this case accessed information from a legitimate transportation company and stole their identity. They fraudulently used the businesses' information to bid on the advertised job. Once their bid was accepted, they sent fraudulent documents and a driver to pick up the load. The driver provided a fictitious name and California Driver License information to the packing house at the time of the pickup. As part of the agreement, the driver was provided a fuel advance check that was later cashed at a gas station in the Los Angeles County area. The load was to be transported to the east coast, but of course it never arrived.
After talking to the Cargo Theft Investigators, I was told that had the packing house called the transportation company to verify information on the driver, they would have discovered that the company did not have a scheduled pickup and the driver was not employed by them. This would have likely raised some red flags and probably would have prevented the cargo theft.
The following advice is always wise if you suspect illegal activity on your property:
・ Call the Sheriff's Office immediately at 911.
・ Be a good witness
・ Note suspect descriptions such as age, height, weight, facial hair, clothing, and shoe type.
・ If a vehicle is involved, obtain a license plate number and note vehicle color, body damage, bumper stickers, camper shell, after market tires and wheels, etc.
Provide the dispatcher with information about the time and last known direction of travel.
If you are not sure of how to address the problem or would like additional crime prevention tips please contact your local Sheriff's Office substation or me directly at (805) 384-4726 or by email at ray.dominguez@ventura.org.
Contacts:
Camarillo Detective Gene Martinez gene.martinez@ventura.org
Fillmore Detective John Fox john.fox@ventura.org
Ventura Detective Mike Rowland michael.rowland@ventura.org
Agricultural Crimes Detective Ray Dominguez ray.dominguez@ventura.org
Be alert and stay safe!
Ray