Drug Dealers Arrested While Using Uber to Commit Crimes
By Ventura County Sheriff Department — Monday, February 2nd, 2015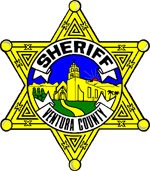 Ventura County Sheriff's Department
On January 28, 2015, patrol deputies from the Thousand Oaks Police Station made an enforcement stop on a car for a vehicle code violation. The deputies soon learned the driver was operating his vehicle for the Uber taxi service. The rear seat passengers were contacted and found to be in possession of approximately one quarter pound of concentrated cannabis known as "butane honey oil" and $2000. The investigation revealed the two subjects were using Uber to drive them to a drug deal where they could sell their concentrated cannabis. Cody Jens and Luke Karasiuk were arrested for possessing a controlled substance for sale. They were both booked into the Ventura County Jail.
Concentrated Cannabis, aka honey oil, wax, or shatter, is an extremely potent drug that can contain purity levels of up to 80% of Delta 9 THC (the active ingredient in marijuana). A typical dose of honey oil is 1/10th of one gram. These individuals had well over a thousand dosage units of the product. Honey oil is extremely dangerous in that it can cause adverse events in users such as severe hallucinations and panic attacks. Honey oil is very hazardous to make since it involves a chemical reaction utilizing large amounts of butane. Frequently, labs blow up killing or maiming individuals attempting to make the product.
Nature of Incident: Drug Dealers Arrested While Using Uber to Commit Crimes
Report Number: 15-2103
Location: Westlake Boulevard South of Avenida De Los Arboles, Thousand Oaks
Date & Time: 1-28-15 at 11:58 a.m.
Unit Responsible: Thousand Oaks Patrol
Prepared by: Jim Fryhoff, Captain
Media Release Date: 1-28-2015
Media Follow-Up Contact: Jim Fryhoff, Captain - 805-797-6378
Approved by: Robert Thomas, Captain
Ventura County Crime Stoppers will pay up to $1,000 reward for information, which leads to the arrest and criminal complaint against the person(s) responsible for this crime. The caller may remain anonymous. The call is not recorded. Call Crime Stoppers at 800-222-TIPS (8477).