By Ventura County Sheriff Department — Wednesday, August 6th, 2014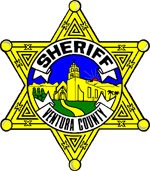 Ventura County Sheriff's Department
Investigators from the Ventura County Interagency Pharmaceutical Crimes Unit received a Crime Stoppers Tip at the end of July 2014, stating that Anthony Barragan was dealing cocaine and prescription drugs from his residence in the 1800 block of Dorrit Street, Newbury Park. The tip detailed heavy drug traffic occurring at the residence during all hours of the day. Investigators conducted surveillance at the location on July 31, and almost immediately saw Anthony Barragan conduct a drug deal with a 17 year old juvenile. The juvenile drove a short distance away from Barragan's residence and then appeared to use cocaine in plain view of the detectives. Investigators arranged for the juvenile to be stopped by patrol deputies. Patrol deputies ultimately arrested the juvenile for under the influence and possession of cocaine. Based on the observations of the investigating detectives, combined with the crime stoppers tip, a search warrant was sought and obtained for Barragan's residence.
On 8-1-14, investigators watched Barragan's residence. Detectives saw Barragan get into a vehicle that arrived in front of his residence. Investigators, suspecting Barragan was conducting a drug deal, detained the occupants of the vehicle and Barragan a short distance away. Investigators confirmed Barragan was conducting a cocaine deal with the driver, Angel Bracamontes, and his passenger, Roselyn Marceleno. Barragan was arrested for sales of cocaine, as well as the sales charge to a minor from the day prior. Bracamontes and Marceleno were arrested for possession of cocaine.
As detectives were planning to serve the search warrant at the residence, Jesse Place walked out of the house and drove away. He was also detained and found to be under the influence of cocaine. Investigators served the search warrant at the house and discovered additional cocaine possessed for sale in Barragan's bedroom. Barragan was additionally arrested for possession for sales of cocaine.
Barragan remains in custody in lieu of $50,000 bail. He is facing several years in prison for selling cocaine to a minor. Bracamontes, Marceleno, Place, and the 17 year old all have pending court dates.
In the recent past, investigators from the pharmaceutical crimes unit have made a total of ten arrests of teenagers or young adults selling and possessing cocaine in the areas of Newbury Park, Thousand Oaks, and Westlake.
The Ventura County Interagency Pharmaceutical Crimes Unit is a full time task force comprised of members of law enforcement from the Ventura County Sheriff's Office, Simi Valley Police Department, the District Attorney's Office Bureau of Investigation, and the California Highway Patrol. The task force's main mission is combatting the transfer of legal prescription medication to the illegal market. A secondary, and equally important mission, is identifying and stopping emerging drug trends among our county's youth.
The Ventura County Sheriff's Office East County Narcotics Street Team assisted in this investigation.
Nature of Incident:
Ventura County Crime Stoppers Tip Leads to Five Arrests for Cocaine Charges
Report Number:
14-17525
Location:
1800 block of Dorrit Street, Newbury Park
Date & Time:
July 31 – August 1, 2014
Unit(s) Responsible:
Ventura County Interagency Pharmaceutical Crimes Unit
Prepared by:
Sergeant Victor Fazio
Media Release Date:
August 4, 2014
Follow-Up Contact:
Sergeant Victor Fazio
(805) 383-8700
victor.fazio@ventura.org
Approved by:
Captain Curt Rothschiller
Ventura County Crime Stoppers will pay up to $1,000 reward for information, which leads to the arrest and criminal complaint against the person(s) responsible for this crime. The caller may remain anonymous. The call is not recorded. Call Crime Stoppers at 800-222-TIPS (8477).