Cold Case Homicide, Dead Body Located
By Ventura County Sheriff Department — Monday, April 29th, 2013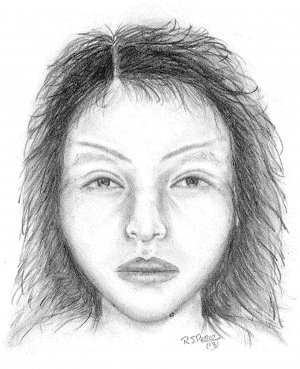 The Ventura County Cold Case Task Force is seeking the public's assistance in identifying the remains of a young woman who was murdered and left in a Ventura County High School parking lot in 1980.
On June 18, 1980, at 12:40 PM, Ventura County Sheriff's Deputies responded to a report of a possible dead body in the parking lot of Westlake High School. When they arrived they found a young woman who was clearly deceased.
Evidence at the scene suggested that the victim may have been killed at another location and her body moved to the parking lot, possibly because of its remote location at that time. An autopsy determined the victim died as a result of multiple stab wounds. A homicide investigation was initiated in 1980, but detectives were never able to identify the victim.
Investigators now have reason to believe the victim may have been from either the San Fernando Valley or Kern County.
The Ventura County Cold Case Task Force is reviewing this case and wishes to identify this young woman. She is described as:
• Hispanic or Native American
• 15 – 25 years of age
• 5 ft. 2in. tall
• 110 – 115 lbs
• Extensive dental work
• Brown eyes
• Black shoulder length hair with bleached tips
• Shaved eyebrows w/ penciled brows above
• 4 months pregnant w/ evidence of prior pregnancy(s)
Her clothing consisted of:
• White pullover short sleeve top, black bra
• Red corduroy pants
• Black high heeled open toed shoes
If this looks like someone you may have known, please call the Ventura County Sheriff's Department at 805-384- 4735
Cold Case Homicide / Dead Body Located
Location: Westlake Village, CA
Date & Time: June 18, 1980
Unit Responsible: Special Services Division / Major Crimes Bureau
(S)uspects, (V)ictims, (W)itnesses City of residence Age
(V) Unknown Female Adult Unknown 15-25 (at death)
Officer Preparing Release:
Sergeant Cary Peterson
Follow-up Contact:
Investigator Greg Hayes
Ventura County Cold Case Task Force (805)384-4735
Date of Release:
April 23, 2013
Approved by:
Captain Chris Dunn