By Ventura County Sheriff Department — Tuesday, April 24th, 2012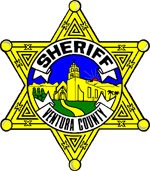 Ventura County Sheriff's Department
Headquarters deputies responded to the above listed address for a report of a stabbing victim. Upon their arrival, deputies discovered a 31-year old female with several stab wounds/lacerations to her body. The female victim was transported to the Ventura County Medical Center where she underwent emergency surgery for her wounds. The suspect, Santos Mendoza Rivera, who was still on scene, was immediately detained, and upon further investigation was subsequently arrested for attempted murder. Rivera was booked into the Ventura County Main Jail on the attempted murder charges. Major Crimes investigators responded and took over the investigation.
Nature of Incident: 664/187 PC / Attempted Murder
Report Number: RB # 120009028
Location: 11300 Block of Violeta Street, Saticoy
Date & Time: 04/23/12 @ 2113
Unit Responsible: Headquarters Patrol / Major Crimes
(S)uspects, (V)ictims, (W)itnesses (D)ecedent City of Residence Age
(V) Female, Saticoy, 31
(S) Santos Mendoza Rivera, Saticoy, 30
Deputy Preparing Media Release: Sergeant Ruby #1852
Media Release Date: 04/24/12
Follow-Up Contact: Major Crimes Detective William Therrien (805) 384-4739
Approved by: Captain Bill Flannigan
Ventura County Crime Stoppers will pay up to $1,000 reward for information, which leads to the arrest and criminal complaint against the person(s) responsible for this crime. The caller may remain anonymous. The call is not recorded. Call Crime Stoppers at 800-222-TIPS (8477).