Arrests for Kidnapping and Battery Causing Serious Bodily Injury
By Ventura County Sheriff Department — Monday, July 21st, 2014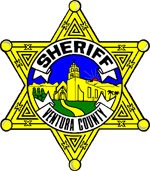 Ventura County Sheriff's Department
On May 12, 2014, a 22 year old male Camarillo resident was physically attacked and forced out of his girlfriend's Camarillo residence by two suspects. The suspects proceeded to violently force the victim into an awaiting vehicle driven by a third suspect. The victim was then driven to a secluded parking lot where he was severely beaten by the suspects. The victim sustained a fractured jaw and multiple contusions during the attack. Investigators identified the suspects as Jess Chambers, Sean Hendricks, and Eric Dean. As the investigation progressed, numerous witnesses were interviewed, search warrants were served, and numerous items of evidentiary value were collected over the course of several weeks.
Investigators arrested Jess Chambers, Sean Hendricks, and Eric Dean for 207 PC - kidnapping and 243(d) PC – Battery causing serious bodily injury. All three suspects have been booked at the Ventura County Pre-Trial Detention Facility.
Nature of Incident: Arrests for Kidnapping and Battery Causing Serious Bodily Injury
Report Number: 14-10939
Location: 300 Block of Westpark Ct., Camarillo, Ca.
Date & Time: May 12, 2014 @ 1900 hours
Unit(s) Responsible: Special Services, Major Crimes Bureau
Prepared by: Sergeant John J. Gleason
Media Release Date: 07/17/2014
Follow-Up Contact: Sergeant John J. Gleason
(805) 384-4727
Approved by: Captain R. Watkins
Ventura County Crime Stoppers will pay up to $1,000 reward for information, which leads to the arrest and criminal complaint against the person(s) responsible for this crime. The caller may remain anonymous. The call is not recorded. Call Crime Stoppers at 800-222-TIPS (8477).