Arrest of suspect in Heroin Overdose Investigation
By Ventura County Sheriff Department — Friday, October 29th, 2010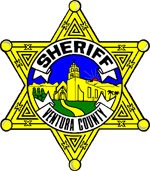 Ventura County Sheriff's Department
On May 22, 2010 at 10:00 a.m., 15 year-old victim Patrick O'Brien was found dead in his family home of a heroin overdose. The Ventura County Sheriff's Major Crimes Unit along with the Sheriff's Narcotics Unit and Deputies from the Ojai Valley Sheriff's substation conducted an investigation into his death.
During the 4-month investigation, Detectives interviewed numerous witnesses and conducted extensive surveillance within the Ojai Valley and the City of Ventura. Detectives identified suspect Craig Anderson as being the person who supplied heroin to Patrick O'Brien.
On October 27, 2010 during a surveillance in the City of Ojai, Detectives watched as Anderson left a home in the area of Franklin Street and Montgomery Avenue. Detectives contacted Anderson and arrested him without incident. Anderson was booked into the Ventura Pre-Trial Detention Facility for 11353 H&S – Providing Controlled Substances (Heroin) to a minor, a felony. He is being held in custody with a bail set at $75,000.
The Ventura County Sheriff's Department will continue its commitment in protecting kids and their families of Ventura County, and vigorously investigate those responsible for supplying controlled substances to the youth in our communities.
Location: Montgomery Avenue and Franklin Street in the City of Ojai
Date & Time/ RB#: October 27, 2010 @ 10:00 a.m. RB # 10-12287
Unit Responsible: Sheriff's Major Crimes Unit
(S)uspects, (V)ictims, (W)itnesses Address Age
(V) Patrick O'Brien Ojai Valley 15 years-old
(S) Craig Anderson Ojai Valley 23 years-old
Officer Preparing Release: Sergeant Joe Evans, Ventura Coutny Sheriff's Major Crimes Unit.
Follow-up Contact: Captain Ross Bonfiglio 805-654-2417
Date of Release: October 27, 2010
Approved By: Captain Barrios