Obituary
Pedro Diaz (1923-2012)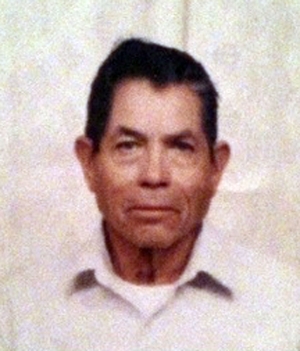 Pedro Diaz (1923-2012)
Pedro Diaz was born on March 2, 1923 in Tangancicuaro, Michoacan, Mexico to Luis and Guadalupe Diaz. In the early morning hours of June 30th, Pedro passed away peacefully, surrounded by his wife of 62 years, his 7 children, and loving grandchildren.
Pedro was born and raised in Tangancicuaro, Michoacan, and at the age of 26 he married Ana Rodriguez on July 27, 1949. In the years that followed they began expanding their family with the births of their 7 children: Luz, Luis, Ramiro, Ramon, Rafael, Ana, and Pedro. They would've had 7 sons, sadly, two of them passed away to childhood illnesses. Despite his difficult childhood Pedro was a responsible and loving father, who taught his children the value of love, respect, and strength. All of which was necessary when Pedro began going to the United States in the 1950's as part of the Bracero Program. The program required him to spend a good deal of time away from his family but as a devoted husband and father he always mailed them his earnings from his work. In 1969 he obtained legal residency for himself, his wife and his children; and brought them to the United States. It was always said, that it was important for them to come together and all at once.
Once his family was settled into Fillmore he began working in neighboring cities, in the fields of a chicken farm and in a factory that produced airplane windows. Even after he retired at the age of 65 he continued to work part-time taking care of a small ranch in Moorpark. He always kept himself busy working on one project or another and could often be seen riding his bike to the store to buy groceries for him and his wife. One of his sister-in-laws said it best, Pedro was like an ant, always moving, always working, and very persistent. When he wasn't working he enjoyed being at home either watching or listening to a Los Angeles Dodger game.
Pedro will now be a guardian angel to his wife, Ana, his children, Luz and Javier Alcaraz, Luis and Jenny Diaz, Ramiro and Trini Diaz, Ramon and Eva Diaz, Rafael and Lupe Diaz, Ana and Agustin Campos, and Pedro Diaz, 16 grandchildren and 8 great-grandchildren.
Our family would like to acknowledge and thank the Fillmore Convalescent Home and Assisted Home Hospice staff who took such great care of our father in his last days. Thank you for your kindness and patience and for allowing our family to be with our father at all hours. We will be forever grateful for your help and hospitality.
Viewing will be held on Friday, July 6th at Skillin Carrol Mortuary in Fillmore, Ca. from 3-6pm, followed by the Rosary at 7pm. Mass is Saturday, July 7th at 8:45am at Saint Francis Church, burial to follow immediately at Bardsdale Cemetery.