Obituary
Pauline Campbell (1930-2013)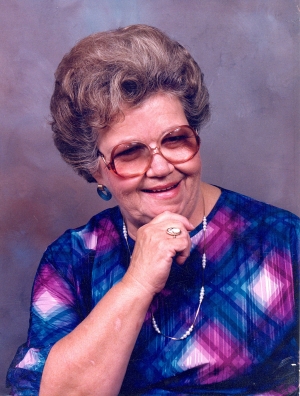 Pauline Campbell (1930-2013)
Pauline Campbell was released from this earth on June 11, 2013. Born in Blythville, Ark. on May 14, 1930, she was mother, grandmother, great- grandmother, sister, aunt and dear friend.
Born at the beginning of the Great Depression, her family was forced to send her to live with her aunt Sally Abbott in Fillmore when she was nine years old. She graduated from Fillmore High in 1949 and married Bill Jim Campbell in 1950. Together they had four children, daughter Terry Kaye and sons James Martin, John Allen and Robin Lee. After Bill passed away in 1972 she moved shortly to Lancaster where she lived for over 30 years.
A definite people person, she worked in the convalescent industry in various positions and was an active member of the American Eagles in Lancaster serving as president and chaplain of the "Aerie", the women's portion of the club.
Aside from her family and friends, her two great loves were cooking and crafts and she was excellent at both. She rarely turned down an opportunity to help anyone with either.
In addition to her children, she is survived by grandson Kevin, greatgranddaughters Kaya and Kaylone, daughter-in-law Nancy (John) as well as sisters Mary and Bobbie.
The family would also like to extend an issue of thanks to Fillmore Convalescent Hospital for caring for our mother in her last trying years. Living in that world is never easy.