Obituary
Patrick Thomas Roud (1933-2022)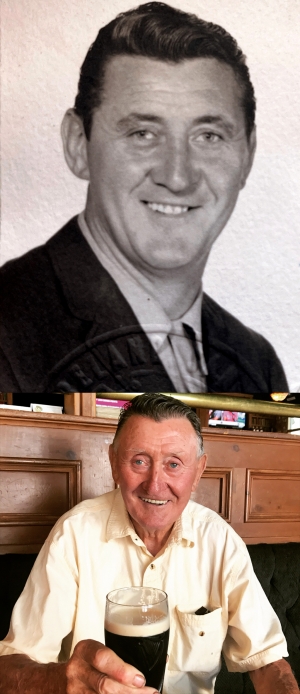 Patrick Thomas Roud (1933-2022)
Patrick Thomas Roud passed away February 9th, 2022 at his home in Fillmore, California with family by his side.
Patrick, or Tom depending on how you knew him, was born on January 19th, 1933 in Dublin, Ireland. At the age of 23 he left Ireland for Canada to work as a painter for the Canadian government. At a dance hall in Vancouver he met Maureen Dineen and they married in 1958, having their first child one year later. In 1960 Tom and Maureen immigrated to the United States and settled in Van Nuys, CA. Over the next 12 years Tom worked hard to earn his contractor's license and establish his painting business. While living in Van Nuys they had four more children. In the little free time Tom and Maureen had they belonged to a square dancing club and Tom raised canaries in their backyard. In 1972 Tom moved his family to Fillmore. He continued his painting business and became a self taught weekend rancher raising animals and growing oranges and avocados. Shortly after moving to Fillmore, Tom discovered a new hobby of raising pigs. He enjoyed sharing his time and knowledge with local 4-H clubs. He was so proud when the kids did well at the county fair with one of his pigs.
In 1976 Tom became a United States Citizen. Throughout the years Tom made many trips back to Ireland but was always happy to return to his "little piece of heaven" in Fillmore. Tom rarely stayed still and usually had some sort of project started. He always had a garden and mostly grew his plants from seeds. He loved spending time on the ocean fishing, regardless of the fact that he usually got seasick. He also enjoyed scuba diving and telling stories about what creatures he had seen. During the summer he would take his family on long road trips or camping at Leo Carrillo and Montana De Ora State Beaches. Tom was quite the story teller and singer of Irish songs. You didn't have to ask him twice to tell a joke, sing a song, or tell a story about his younger days in Ireland.
Tom always saw the potential in each new day. One of the first things he would ask is " what's on the agenda for today?" His passing has left a void in our hearts but we are comforted by the beautiful memories he made with us.
Tom is survived by brothers Sam Roud (Noreen) and Noel Roud (Zaida), his son and daughter in law Daniel and Deborah Roud, daughter and son in law Kathleen and Andrew Aguirre, his grandchildren Benjamin (Dana), Noah, and Brooke Aguirre and Ronnie Duenas, great grandson Liam Aguirre, as well as numerous nieces and nephews. Tom was preceded in death by his wife Maureen, daughter Anne, sons Thomas and Brian, his parents, sister Margaret Hughes, Eva Roud and brother Brendan Roud.
Services will be held March 17th, Rosary at 10:00 am and Mass to follow at 10:30am at St. Sebastian Catholic Church in Santa Paula with burial to follow at Bardsdale Cemetery.