Obituary
Oma June Burgett (1939-2021)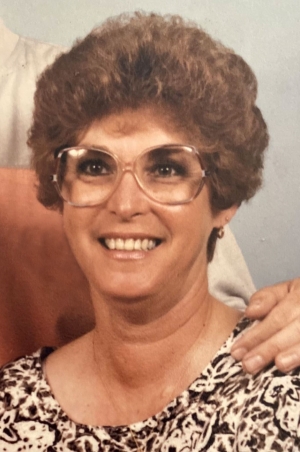 Oma June Burgett (1939-2021)
Oma June (Crockett) Burgett, 81, of Fillmore, went home to be with our Lord on Tuesday, May 4, 2021, after a long illness. She passed away peacefully with her loving family by her side.
She was born June 30, 1939 in Wasco (Kern) CA to Perry & Opal Crockett.When she was eighteen months old her family moved to the Fillmore area; living in North Fillmore, at Rancho Sespe, and Fillmore where she remained until her death.
Her siblings are Jerry Crockett (Linda), Joan Hooten, Gail Cole (Robert) and Dale Crockett (Marsha).
Oma married William Rochell Burgett, of Santa Paula, on February 27, 1959. They had two children, Annette and William Burgett, Jr. 'Buddy'. She was a very loving mother and grandmother.
She was preceded in death by her parents, and her son 'Buddy'.
Oma is survived by her daughter, Annette Cardona; grandchildren, Michael Cardona, Stephanie Cardona, Kristen Cardona, and Brittany Halcon (Bobby). She also had ten great-grandchildren and numerous nieces and one nephew who all adored her. She also had many great-nieces and great-nephews.
While living at Rancho Sespe, her home was considered the meeting place, her friends would come over and they would bake cookies or cakes, make fudge and popcorn.As a child, she liked to play Hopscotch, Kick-the-can, and roller skate.
Oma graduated from Fillmore High School in 1957 and was voted the 'Craziest' by her Senior Class.In high school she was involved in: Girls League, Girls Athletic Association 1, 2, & 3, Chorus, Office Staff, Fillmore Festival Coronation, Christmas Pageant, Commercial ClubSecretary, Tri-Y, Spring Concert, Senior Play, Exchange Assembly, Fashion Show, Girls League Assembly, Variety Show, Class Assembly, and Drill Team.Oma and her friends called themselves 'The Pink Ladies' and had special shirts made.
After high school, she worked as a Switch-Board operator in Santa Paula for several years. She sold 'Sarah Coventry' jewelry.She drove a school bus for the Fillmore Unified School District from 1968 until 1974 – she enjoyed picking up students from Rancho Sespe because it brought back many fond memories of when she lived there. She then worked for Safeway/Vons as a checker beginning in 1974, until she retired in 2002.
Oma enjoyed getting involved with her children's school activities; volunteering in her children's classrooms every year as Room Mother, heading the Annual Carnival held at San Cayetano School, PTA President, Brownie Leader which involved takingher troop camping at Pole Creek and working on Badges. She especially enjoyed putting on the MayPole Dance every year which performed at the May Festival. Other activities she was involved in was Fillmore Little League, Fillmore Raiders Football, Boy Scouts, Girl Scouts, FFA, PTA, Fillmore Booster Club and High School Pep Squad.
All of Annette and Buddy's friends enjoyed hanging out at the Burgett home, Oma always made everyone feel welcome.
Oma loved to entertain and have family get-togethers at her home, whether it be a Bar-B-Cue, Monday Night Football, Super Bowl Sunday, or just a casual evening meal; you could always count on lots of fun, laughs, and good food; but her wonderful recipe of Chili Verde and her famous Chocolate Chip Cake topped it all.
Traveling was something Oma looked forward to. She kept a record of how many states she went through or visited; from Hawaii to Florida, according to her records there were only fourteen states that she did not get to see.
Her favorite holiday was Christmas, she would go all out decorating her home, inside and out.
Oma enjoyed life and got involved with different activities, she was on a woman's softball team called the 'Hit N Mrs.', and she was also on a bowling team in Santa Paula for several years. She also liked to paint ceramics.
The annual Alumni Banquet was one event she always looked forward to, visiting with friends and catching up on their lives.
She loved to read and always had a book near-by. Her favorite television shows were 'Law and Order', 'Murder She Wrote', 'Star Trek', and of course, 'Monday Night Football' – especially if the Green Bay Packers were playing; andwhile watching, she would have a book in her hand and read during the commercials.
Oma also enjoyed listening to music, and of course, it was usually an 'ELVIS' record/cd playing in the background as she attended to her household chores; she was a big fan of his (with over forty records/cd's in her collection) and was excited to be able to attend a few of his concerts.
A special 'Thank you' to: Pastor Dion Brooks, the Fillmore Fire Department, and her wonderful caregivers – Antonia Lopez, Jessie Valle, Elena Gomez, Jazmin Rodrigues, Gabino Garcia and Ron Imhoof. Also, Los Robles Hospice and their nurses – Christina Holladay, Francine Duran, and Kathrine Montes. All of you are Angels, so caring with hearts of gold. It takes an amazing, special, and loving person to do what you all do, there are not enough words to express how thankful we are for the care Oma received from all of you!
Our family wishes to extend a heartful thank you also for the many cards, flowers, food, text messages, phone calls and prayers we received during this difficult time.
In lieu of flowers, please send donations to the Fillmore Alumni Association, 559 Sespe Ave, Fillmore, CA 93015.
Services will be held at Faith Community Church, 355 D St, Fillmore, CA 93015-1614 on Saturday, June 19, 2021 at 1:00pm. Burial will be immediately following at the Bardsdale Cemetery, 1698 S Sespe St, Fillmore, CA 93015-9768.