Obituary
Norma Jean Nunn (1933-2018)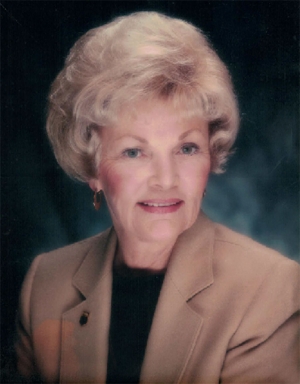 Norma Jean Nunn (1933-2018)
Norma Jean Nunn, long time resident of Moab, passed away peacefully at home on the evening of December 28, 2018, surrounded by three generations of family.
Norma was born May 9, 1933 in Lone Pine California to Clifford (Bud) and Lenore Harper. Her family lived in nearby Independence, California. As a young child, Norma and her family moved to the Fillmore State Fish Hatchery where her dad was employed as a state hatchery man raising rainbow trout. She had many barefoot outdoor adventures growing up in a rural setting.
Norma was a cheerleader and active in student government in high school (graduating in 1951), and went on to receive her Associates of Arts degree as well as an education in Business Administration, both from Mount San Antonio College in California. In addition, she held a certificate from the American Institute of Banking in San Francisco, California. Her profession earned her numerous Real Estate certificates, culminating in the Lifetime Achievement Award in 2017.
As a young adult Norma was a flight attendant for United Airlines. In those days flight attendants had to be thin, beautiful and very well dressed all criteria of which Norma met exceedingly well. Soon after she met J. Richard (Dick) Nunn and they married on July 17, 1955. They ran a successful flooring business in Santa Paula, California for many years, until they decided to relocate to Moab, Utah in 1971. They purchased a ranch on Wilson mesa where Dick ranched and raised cattle, pinto beans, grains and alfalfa, and Norma began selling real estate and became active in rotary club and other community service organizations. Norma was a successful real estate agent for nearly 50 years. She never lost her passion for real estate and worked up until her last three weeks of life.
Norma was fiercely devoted to her family. She was very involved in her siblings, children, grandchildren and great grandchildren's lives and loved her family very much.
Norma is preceded in death by her parents, brother (Willard Harper), grandson (Dirk Bierschied), daughter- in-law (Sandy Nunn), and son-in-law (Jody Bierschied). She is survived by her husband, siblings (Albert Harper, Susan Kramer and Harry Harper) aunt (Enid Swartz), children Greg Nunn (Karen), Julie Bierschied and Jeff Nunn (Nancy), grandchildren Buck Nunn, Heather Palmer (Jared), Tiffany Swafford (Robbie), Tara Long (Will), Tammy Woodruff (Johnny), Daniel Nunn (Shania), Christal Nunn, and many great grandchildren, nieces and nephews.
Norma was one of a kind. She was very strong in her resolve, devoted to her family, and had an excellent talent for business. She had a heart of gold, always holding the best of intentions and support for all people. Norma gave freely of her advice and council to family and others, and never complained or spoke poorly of anyone. She was one of the great people of our town. Norma Nunn was an icon that will be deeply missed by many.
The family asks that in lieu of flowers, donations be sent to St. Jude's Children Hospital or Shriners Hospitals for Children, which were among her favorite charities.