Restored Theater Marquee Celebrated at the Seabee Museum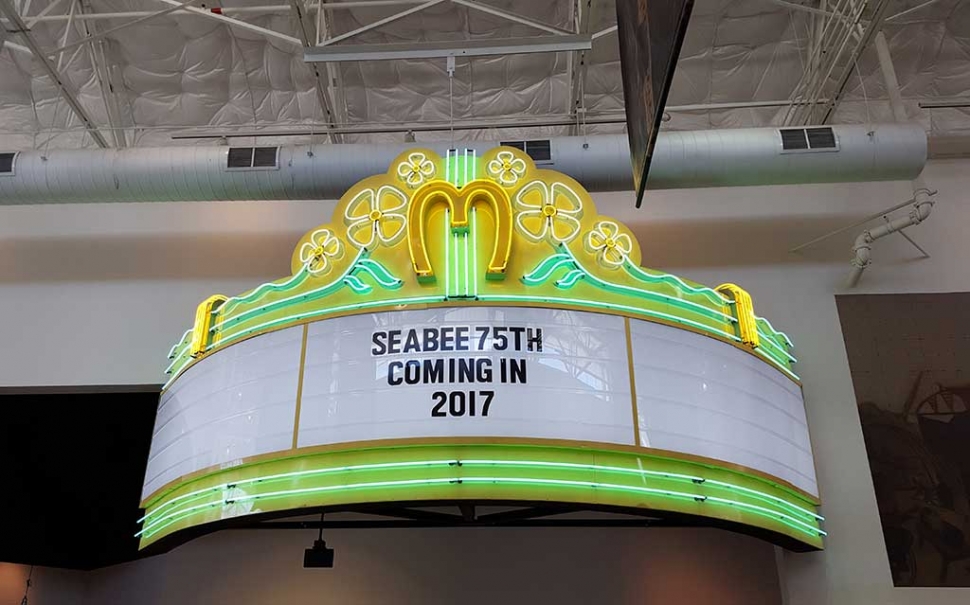 By Gazette Staff Writer — Thursday, November 10th, 2016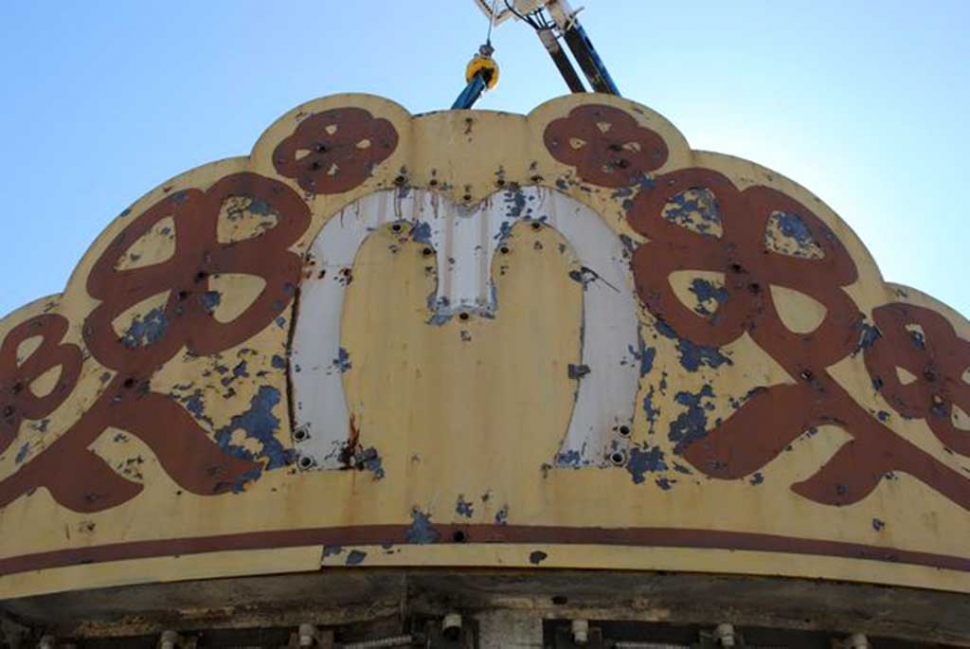 The U.S. Navy Seabee Museum (USNSM) will be hosting a celebration for the recently restored and installed "1940's Theater Marquee." Come join the Seabees, public, and museum staff on Thursday, November 10th, 2016 from 2:00 p.m. to 3:00 p.m. at the U.S. Navy Seabee Museum in Port Hueneme.
The marquee was donated to the USNSM by the Ventura Artists' Union in 2013. The marquee came from the iconic Mayfair Theater in downtown Ventura that was destroyed by a fire in 2000, and razed in 2004. The marquee sat in an empty lot at the intersection of Figueroa and East Santa Clara streets in Ventura for 10 years. When the potential donor reached out to the museum, museum director Dr. Lara Godbille thought the marquee would enhance the museum's visitor experience. "The marquee could not only be used for an aesthetic focal point to better tell the Seabee story in World War II, but it represented a piece of local history that the Seabees have been a part of since 1942," Godbille stated.
• In partnership with the Navy Seabee Veterans of America Island X-7 and the Channel Islands Navy League, restoration of the marquee began in 2014. The Navy performed the initial repairs to the marquee metal, by replacing deteriorated sheet metal and adding angle irons to strengthen the frame. The Navy Seabee Veterans of America Island X-7 organized the more meticulous aspects of the project, provided funding for the project, and restoration volunteers.
• When asked about the project's inspiration, Mr. Bob Quinn a retired Navy captain said, "We'd like to give everyone an opportunity to preserve this piece of Ventura history." The marquee was truly a community wide project; NSVA Island X7 was able to get volunteers from all over the county. The marquee project encompassed various Ventura organizations and volunteers including Dave's Signs of Ventura who did the painting and neon lighting.
The Seabee Museum is a fun and informative place for the entire family. The museum not only has historical galleries, exhibits, and audio-visual programs but a S.T.E.M. center as well (Science, Technology, Engineering, Math) for children to explore.
The mission of the U.S. Navy Seabee Museum is to select, collect, preserve and display historic material relating to the history of the Naval Construction Force, better known as the Seabees. The Port Hueneme U.S. Navy Seabee Museum is the second oldest museum in the U.S. Navy.
The USNSM is free to the public, located between Channel Island Boulevard, and Pleasant Valley Road on Ventura Road at Sunkist Street. The new USNSM facility opened in 2011 and is easily accessible from the street off base, since it is outside of the gate no base access is required.