Obituary
Melba Geraldine (Jeri) Schleimer (1922-2013)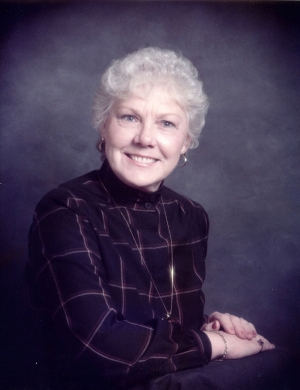 Melba Geraldine (Jeri) Schleimer (1922-2013)
After a remarkable and rewarding life, God opened his arms for Melba Geraldine (Jeri) Schleimer on February 9 after a brave battle with cancer. Born on February 17, 1922 in Bondurant, IA in the home of her parents, Benjamin and Betty Patton Carpenter, Jeri grew up as a farm girl but became an all league basketball star at Johnston High School in Johnston, IA. Her team participated in the Iowa state girls' tournament and a young radio broadcaster by the name of Ronald Reagan was courtside to call the action.
After graduating from high school in 1939, she took the job of a receptionist at the Hyperion Field Club which was one of the state's premier country clubs. When the manager of the club and his wife decided to take a similar position in California, Jeri came along to do the same job. During World War II, she and her sister went to work for Lockheed Aircraft Company in Burbank and was one of the now famous "Molly Riveters." During a train trip to San Francisco in 1944, a tall, handsome officer in uniform in the Merchant Marine named John Leonard (Jack) Schleimer caught her eye and after a romantic courtship they were married on September 12, 1945. While Jack was at sea, Jeri returned to Iowa to be with her parents to have her first child, John Harrison Schleimer.
Upon her return to California, she began a career in banking which eventually led to becoming vice president of Ramona Savings and Loan in her new hometown of Fillmore, CA. Her second child, Susan Elizabeth Schleimer, was born in Santa Paula, CA in 1952. Along life's pathway, Jeri was a community activist including being a Kennedy Golden Girl at the 1960 Democratic Convention in Los Angeles, serving on Fillmore's Planning Commission, long-time member of the local Soroptimist International and Business and Professional Women chapters, volunteering for the 1984 Summer Olympics and her beloved Rancho Calmulos Museum in Piru and loyal parishioner of Trinity Episcopal Church for almost 60 years. She enjoyed playing bridge with her group of friends, taking cruises with her husband and friends and spending many summers with him at their vacation home in Pagosa Springs, CO.
Jeri is survived by her husband of 67 years, Jack, sisters Vera Botts of Valley Center, CA and Ruth Stientjes (Gene) of Pella, IA (her brother Vernon Carpenter proceeded her in death in 1989) and children, John (Celeste) of Roseville, CA and Susan Dudley Morales (Gilbert) of Merced, CA; her grand children Tiffani Ross of Carlsbad, CA, Krystol Stemm (Terry) of Hillsboro, OR, Ashley Powell (Isaac) of Lincoln, CA, Tyler Dudley of Mariposa, CA and Caitlin Czirban (Ian) of Coarsegold, CA; and her eight great grand children Jack, Nolan, Logan, Hudson, Brooklyn, Hayden, Kinley and Tateym.
A celebration of her life will be held at the Veterans Memorial Building at 511 Second Street in Fillmore on Saturday, March 16 at 2 pm. The family requests that any donations to be made be in the name of Jeri to the charity of your choice or to either the Central Ventura County Unit of the American Cancer Society or the Rancho Camulos Museum.