Obituary
Mary P. Molina (1920-2022)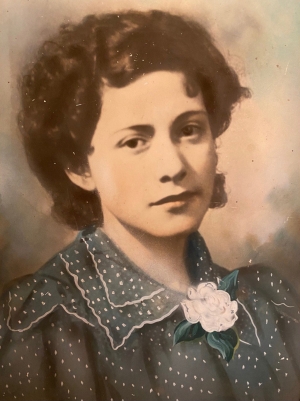 Mary P. Molina (1920-2022)
Mary P. Molina, the eldest of 11 siblings that included 10 sisters and 1 brother, was a remarkable centennial woman who was blessed to see 3 generations of her family beyond her own. Due to the demands of life in her era, she aided her parents, as a teenager herself, in the care of her siblings. In her youth, she was everyone's older sister and developed a pseudo-mother-figure persona very early in life that was filled with genuine affection for wanting the very best for those she cared about, in her own family and community. Within her immediate family, she was a window through the time of the generations before and after her, and the stories she would tell continue to be cherished by the family to this day.
Through the years, Mary's passion for being in the servitude of others led her to seek work for the Piru community while working at the Piru General Store next to her husband, and owner, from the 50s to the 80s. A devout Catholic, Mary's faith guided her into servitude of the San Salvador Mission church since the late 50s as a Sacristan (a Sacristan is an officer charged with the care of the sacristy, the church, and its contents). Mary eventually became a member of the sacred heart society. "Grandma Mary" will be truly missed, and her remarkable life celebrated by the family. Mary was preceded in death by her husband, Ben Molina, and son, Roy Molina, and survived by her son, Danny Molina, her 4 grandchildren, and 4 great-grandchildren.
Funeral services will be held on Saturday, December 3rd 2022. Services will begin at noon at San Salvador Church 4045 Center Street, Piru CA. Interment to follow at Piru Cemetery 3956 Center Street, Piru CA. To sign the family's online guest book please visit our website: www.santapaulahome.com and locate Mary's name in "Recent Obituaries." Funeral arrangements are under the direction of the Family Owned & Operated ROBERT REY GARCIA JR. FUNERAL SERVICES, SANTA PAULA, CA 805.229.7054.