Obituary
Mary Laurine Gaither (1932-2013)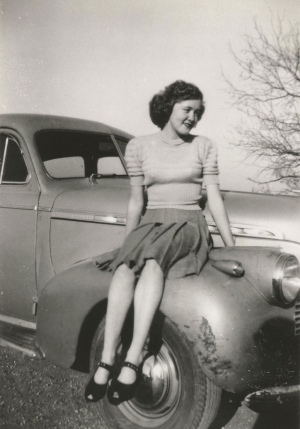 Mary Laurine Gaither (1932-2013)
Services for Mary Laurine Gaither, 80 of Eucha, OK formally of Healdton will be 2:00 PM Tuesday March 26, 2013 at Roberts Funeral Home Chapel in Healdton, with Bro. Chad Barron officiating. Interment will follow at Mount Olive Cemetery under the direction of Roberts Funeral Home.
Mary was born October 5, 1932 in Anson, Texas to Sam and Clemme "Blackerby" Garvin. She passed from this life Friday March 22, 2013 in Tulsa OK.
Mary was raised and attended school in Anson, she was a cheerleader while in school, graduating from Anson High School. She married Cecil D. Gaither in 1962. Mary lived in several different places including Texas, Japan, Germany, Oklahoma, New Mexico and California. She was a civil service worker, bookkeeper, wife, mother and homemaker. She like quilting, sewing, painting and she collected Barbies and spoons.
Mary was a wonderful mother, grandmother, great grandmother and great-great grandmother and will be remembered with respect and great love. We were all lucky to have had her in our lives, to have known her and to have been loved by her. She loved us, supported us, took care of us, played with us and taught us to laugh.
Preceding her in death were her parents, husband, grandchildren Amanda Miller and Danny Cox; sisters Aileen Baxter and Jane Hodnet, one brother Sammy Garvin.
She is survived by her children Carol and Sonny Fennel, Kingston; Doyle Gaither, Kingston; Dianne and Jess Ary, Eucha; Donna and Butch Miller, Tuttle; Patti and Arlen Kirchoff, Victoria, MN; Shane and Kim Morgan, Henderson, KY and Carl and Tracy Gaither, Fillmore, CA; 22 grandchildren; 29 great grandchildren; 9 great-great grandchildren and 2 brothers Joe Garvin and Ron Garvin.
Pallbearers are David Miller, Michael Miller, Roger Mohan, Jessie Ary, Samuel J. Ary, Brandon Morgan, Colby Morgan, Andrew Timms, Cole Asher, Justin Estep and Ryan Estep.
Online Condolences may be sent to the family at www.robertsfuneralhomes.us