Obituary
Marjorie Ruth Signor nee Dimmick (1923-2016)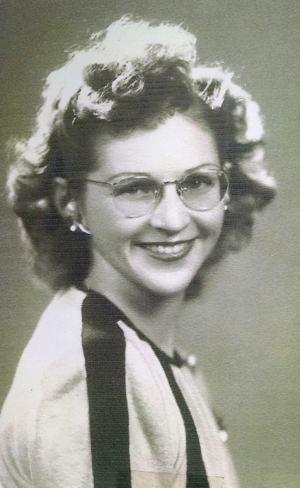 Marjorie Ruth Signor nee Dimmick (1923-2016)
Denton, Texas
Marjorie Signor (aka Marge), our mom, left this world in the early morning hours of August 12, 2016, escorted by angels (Luke 16:22) to her heavenly home as was promised to her by her Lord and Savior (John 14:2). She departed from her home in Denton, Texas surrounded by her youngest son, Steve; her daughter-in-law, Debbie; her grandson, Justin; and granddaughter, Shelby, whom all had lovingly cared for her and our father after they moved to Texas in 2007.
Born to Reverend Dana and Edna Dimmick on April 21, 1923, in Beach Lake, Pennsylvania, our mom shared her childhood with her two brothers, Howard and Paul, and her sister, Alice. Their love for each other endured and extended to their families throughout their entire lives. Marjorie was a "daddy's girl" and followed her father around as much as she could. In her words, "I never outgrew Dad's love." His duties as a pastor during the great depression in rural areas often involved long days visiting churches and church members in their homes with little monetary recompense in return. And the whole family went along.
Our mom learned to be thankful for what they did receive (Ephesians 5:20) and helped her father and mother cultivate and harvest most of their food from their family garden, which they canned and stored in their cellar for use all year. She was taught to be frugal with all things perishable and to conserve whatever and wherever she could. She learned to sew, darn and knit which served her well all her life. She learned resilience, as she moved to a new home almost every two years because of the requirements of her father's Free Methodist calling.
In the summer of 1941 our mom attended a Methodist camp meeting where she met her future husband, Allan Signor. Since they lived quite a distance from each other, they corresponded primarily by letter with a visit here and there. On September 6, 1942, our mom chose to be baptized (Matthew 3:11) by her father as a profession of her faith at his church in Kingston, New York.
Our mom and dad loved each other from day one and were married by her father on Valentine's Day, 1943, when Allan came home on leave from the U.S. Navy, which he joined shortly after he graduated from high school due to the Japanese attack on Pearl Harbor.
In their first decade together our mom and dad begat three sons: Allan, Gene and Steve, in that order. They reared us in the manner they both had been reared by their parents. These words were etched in plaques that were displayed in our home: "A wishbone aint as likely to git ye someplace as a backbone" and "The early bird catches the worm." They taught us to arrive early, not late, and do our best in whatever endeavor we chose.
When our father retired from the U.S. Navy after 20 years of service and he seemed a little uncertain which new employment path to follow, our mom encouraged (pushed, supported) him in a direction that led him to a U.S. Civil Service job that he enjoyed for 23 years.
Our mom, for most of her married life, was a stay at home mom. She kept a tidy, neat home and always welcomed visitors, friends and relatives. She and our dad made many friends throughout their lives and they continuously corresponded with many of them. Our friends were always welcome at our house and in our teenage years many of our friends would come visit our parents even when we weren't there.
Our mom had a will of determination and despite her small physique had great physical strength that she exhibited into her 90's. We boys recall many times how our mom moved heavy furniture around in the house all by herself while we "he-men" were at school or work.
Our mom wrote prose and poetry and painted as well. But, what she really excelled at was record keeping. She kept records of almost everything! We boys have 57 loose-leaf albums of our family's lives together: love letters, monthly budgets, pictures, cards, written recollections of their lives, the list goes on and on. These are treasures!
Our mom and dad got really interested in the genealogy of both sides of their families and they traveled all over the country visiting historical sites, libraries, cemeteries, government records offices, churches and anywhere else they could find information that would fill in the gaps. One year, after a lengthy trip around the country they invited us boys and our families over to view their slides of their trip. After looking at numerous slides of headstones, markers and other signs, Allan queried, "Do you guys ever take a vacation that involves the living?" We haven't yet counted the volumes of genealogy records they accumulated. Also treasures!
After our dad went to heaven in January 2008, our mom lived across the street from Steve. As she was now a widow after almost 65 years of marriage, like she did almost every year, she sent out a Christmas letter a couple of years later to all of her friends and relatives in which she expressed how much she missed her husband. This prompted a phone call from John Hallman, who, along with his wife, Judy, had maintained a friendship with our mom and dad for more than 50 years. John told our mom that his wife had also gone to heaven and he was living alone in a house he built in Ohio. They developed a loving, long distance relationship, by phone and letters, which we boys believe helped to give them both added comfort and purpose to continue their lives without their spouses.
Our mom was preceded in death by her parents; her brothers and sister; her daughter-in-law Shelley Signor and many other extended family members.
She is survived by her son, Allan Jr. (wife Patricia and their daughter Jessica Siedenburg (husband Michael and their three sons, Zachary, Noah and Caleb) his stepdaughter Maryanne Olson and her children Samantha and Zackery Olson; son Gene and his daughter Kerie Naugle (husband Greg and their children Aaron and Rachel); his daughter Kimberley; his stepson Justin Socia; his stepdaughter Kaylen Rodriguez (husband Bobby and their daughters Haku and Bella); son Steve (wife Debbie and their children Justin and Shelby).
According to our mom's wishes, her ashes will be placed next to her husband's ashes in a columbarium niche at the Dallas-Fort Worth National Cemetery at a time in the near future.