Obituary
Marjorie Anita Southwick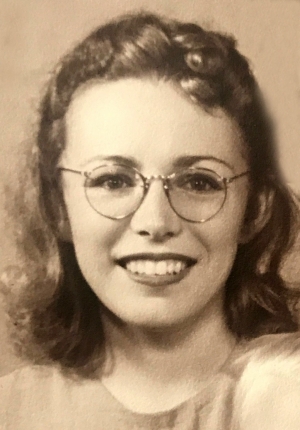 Marjorie Anita Southwick
Marjorie Anita Southwick, 95 years old, died June 15, 2018 in Carson City, Nevada. Born on October 3, 1922 in Oxnard, California, she was the second daughter of Allen T. and Isla G. Coleman. Her sister Helen was her only sibling.
Anita graduated from Fillmore (CA) High School in 1939. She married Glen Southwick on October 4, 1942. Glen's enlistment in the U.S. Army Air Corps in 1943 led them to Texas and Florida, where they started their family. After the war they returned to Fillmore, where Anita continued raising their growing family, working at times as a teacher's aide at the elementary school and volunteering at blood banks.
Known to family and friends simply as "Ne," she was very skilled in sewing and quilting, was an avid reader, and a talented painter. She played the piano, studied history, and spent years researching family genealogy. Ne loved big band music and danced to Glenn Miller. She loved baking bread, cookies and other treats.
In 1965-1966, Anita and Glen hosted Bismar Pombo, an AFS exchange student from Uruguay. Their generous love and hospitality soon made Bismar a fourth brother. He still maintains regular contact with the family, including trips back to America to reunite with them.
Anita and Glen moved to Clayton, Idaho in 1969, where they owned the Saturday Mountain Resort along the Salmon River. She spent several years working for the Challis National Forest at the Yankee Fork Ranger Station. After selling the resort in 1975, they built a house nearby. It was a favorite family gathering place, especially in the summer months when Anita's garden yielded fresh raspberries to top ice cream desserts.
After retirement, the couple volunteered for many years at the nearby ghost town of Custer. Working as a docent at the Custer Museum, Ne greeted visitors and worked in the gift shop. She and Glen were also instrumental in the founding of the Friends of Custer Museum (now The Land of the Yankee Fork Historical Association).
In 1997, Ne and Glen moved to Stevensville, Montana. Both were soon active volunteers at the Stevensville Museum, and had an interest in the Lewis and Clark bicentennial activities of the area. They loved to take road trips, putting thousands of miles on their car, visiting friends and family, and sightseeing.
The couple moved for the last time to the Gardnerville/Carson City area of Nevada in 2006 to be closer to family in their final years. She was preceded in death by her husband Glen, her sister Helen McNair and infant son David.
Anita is survived by her children Don, Marilyn, Tim, Bismar and Roger. She is also survived by 10 grandchildren: Scott, Mark, Leslie, Melanie, Jacob and Joshua MunozÍľ Charles and Edward SouthwickÍľ Emilio PomboÍľ and Eric SniderÍľ as well as 25 great grandchildren and 12 great great grandchildren. A memorial gathering was held at Mormon Station State Park in Genoa, Nevada on July 8, 2018. We miss her greatly, but are also comforted that she is reunited with Glen and all their wonderful memories.