Obituary
Maria Rosario De La Rosa (Chayo) (1924-2013)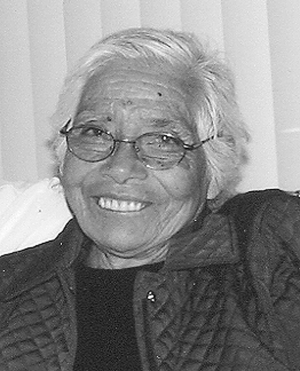 Maria Rosario De La Rosa (Chayo) (1924-2013)
October 6, 1924 – July 30, 2013
Born in Jamay, Jalisco Mexico. To Pedro and Margarita De La Rosa.
Maria was the oldest of 8 children. Preceded in death by her mom and dad, sister Cruz Ramos, brother Alfonso De La Rosa.
Maria is survived by her only son Gama (Dionicia) Aguilar, 3 grandchildren: Joseph (Katie), Vanessa and Raquel Aguilar, 2 great grand children Azaria and Joseph, sister Elisa Magallon, brothers Juan, Martin, Agustin and Gama De La Rosa.
Maria came to the U.S. in 1955, and has lived in Fillmore most of her life. Until recently she, enjoyed taking daily walks. She enjoyed her time in her garden and she was a devote Catholic. She enjoyed conversing with family and friends. Her best times were when the family got together.
The Viewing will be held Thursday, August 8, at 5:30p.m., followed by the Rosary at 7:00p.m. at Skillin Carroll Mortuary in Fillmore, Mass will be Friday August 9 at 10:00 a.m. at Saint Francis Church in Fillmore.
Her family would like to thank the staff of Greenfield Care in Fillmore, and Sherri and Linda from Assisted Hospice for the support and care they provided to Maria.