Obituary
Maria Aparicio Reyes (1919-2014)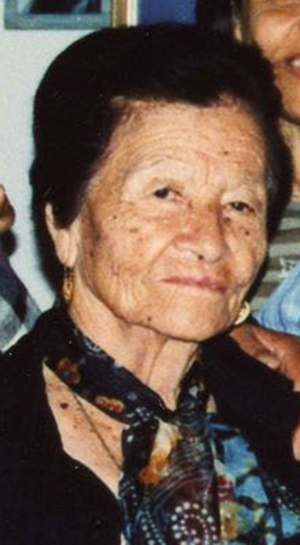 Maria Aparicio Reyes (1919-2014)
Maria Aparicio Reyes was born on July 20, 1919 in Jerez, Zacatecas, Mexico and grew up in the village of El Huejote, together with her two sisters and three brothers. Working alongside her mother, Maria learned to work, to keep house, to cook and garden. Maria married Manuel Reyes in 1943 and together they immigrated to the United States in 1954. In the United States, Maria spent most of her working years caring for an elderly couple. She cooked their meals and cleaned their house. Although Maria loved children she did not have any children of her own. Together with her husband they helped raise some of their nephews and nieces. They took much pride in having dozens and dozens of godchildren who they cared for very much. They loved, cared for and took one of their godchildren Cristina Balderrama as their own daughter, whom she would refer to as, "la luz de mis ojos" ("the light of my eyes"). In Maria's latter years and particularly at times of illness Cristina lovingly helped care for her as a daughter would have. After her husband's passing, her nieces and nephews cared for her. For a period of time Manuel and Nico Olague lovingly welcomed Maria into their home. Then, Manuel and Margarita Aparicio cared for her during her final years. Maria grew very attached to Manuel and Margarita's daughters and had a special bond with their youngest, Ariana, from the time she was born. As Margarita says "Ariana was more hers than mine." Maria enjoyed gardening year round, growing vegetables, fruit and flowers. Always happy to be with her friends and family, she enjoyed traveling, music and dancing. Maria was kind and loving to all of her nieces, nephews and everyone whom she encountered throughout in her life time. Her husband Manuel Reyes preceded her in passing and Maria is survived by her nieces and nephews, who are many and reside in different places, including Fillmore, Los Angeles, Texas, Colorado, Zacatecas, and Guadalajara, Mexico.
Visitation will be held on Sunday, October 5, 2014 from 2-5:30pm at Faith Community Church, 355 D Street, Fillmore, with a rosary to be recited at 7:30pm at St. Francis of Assisi Catholic Church, 1048 W, Ventura St, Fillmore, California 93016. Mass of Christian burial will be celebrated at 9:30am on Monday, October 6, 2014 at St. Francis of Assisi Catholic Church. Committal and interment will follow at San Fernando Mission Cemetery, 11160 Stranwood Ave, Mission Hills, CA 91345.
To sign the family's on-line guestbook, and to share stories, and post pictures, please visit our website: www.mysantapaulafuneralhome.com and click on Maria's name located below "Obituaries".
Funeral arrangements are under the direction of the funeral owned and operated, Robert Rey Garcia Jr. Funeral Services, Santa Paula, CA. For further information please call (805) 229-7054.