Obituary
Marcos Rios Olivares (1942-2015)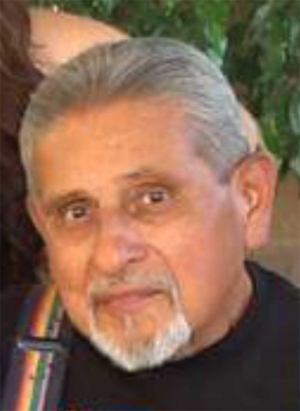 Marcos Rios Olivares (1942-2015)
It is with heavy hearts that we announce the passing of our beloved husband, father, brother and grandfather, Marcos Rios Olivares aka Papa or Nito. On Nov. 29th, 2015, at the age of 73, Our Lord decided it was time to relieve him of his suffering and bring him Home to Everlasting Life. Marcos was a lifelong resident of Fillmore, California. He was born on Nov. 11, 1942 in Fillmore to Marcos and Isabel Olivares. He was a boy scout for several years where he learned many of his skills. He then attended Fillmore High School where he played football, baseball and trumpet, and graduated in 1961. In 1962 at the tender age of 19, he married the love of his life, Jessie Vega. Marcos worked at the Fillmore (MOD) Packing House, Fortin Plastics, PPG and eventually retired as a toolmaker from Northrop Grumman, in Pico Rivera, California, where he took pride in being part of the development of the B2-Bomber. After he retired, he was determined to stay busy and continued working at various jobs including Fillmore High School as night maintenance for several years. One of Marcos' biggest accomplishments was being a father to his six children. Although he was a very hard worker, his weekends were dedicated to relaxing and spending quality time with his large extended family. His favorite thing to do was to be barbequing his famous ribs and tri-tip in his patio. Marcos had a great love for the outdoors and spent many summers camping and going to theme parks with his family. He also enjoyed going to the mountains and deer hunting with friends. He not only took pride in his family, but in his home. Marcos was a natural when it came to craftsmanship and creativity. He enjoyed doing projects around the house and eventually designed the beautiful addition in their home where he spent the last remaining years of his life. Marcos also enjoyed spending time in his yard caring for his plants and relaxing in his garage with the garage door open ready to welcome friends and family while he watched football games and the cooking channel.
In his final years Marcos became very close to God and would pray the rosary daily with his wife, whom he loved so deeply. Although we will miss him dearly, we are at peace knowing that he is no longer suffering and we look forward to one day being at his side again in Heaven. Marcos was preceded in death by his parents Marcos and Isabel Olivares and is survived by his sister Becky Martinez, his beautiful wife of 53 years Jessie, his children Marc (Maria), Benjie, Tricia (Alex Estrada), Catherine (Doni Mays), Bernadette (Bill Sablan) and Lisa (Armando Magallanes) and by his grandchildren, Debani, Breanna, Miguel, Joseph, Bella, Jimmy, Nathan, Danae, Kiana, Gregory, Lexi, Gracie and Mia.
A recitation of the rosary will be held Sunday December 6, 2015 at 7:30pm at St. Francis Of Assisi Catholic Church, 1048 West Ventura Street, Fillmore CA. A Mass of Christian Burial will be celebrated at 10:00am Monday December 7, 2015 at St. Francis Of Assisi Catholic Church. Interment will follow at Bardsdale Cemetery.
For map and directions to ceremony locations and to sign the family's online guestbook, share memories and post pictures please visit our website: www.santapaulafuneralhome.com
Funeral Arrangements are under the direction of the Family Owned & Operated Robert Rey Garcia Jr. Funeral Services, Santa Paula. 805.229.7054.